Session Two Observations:
With a brisk wind, temps in the low 60s and clouds hiding the sun, Friday afternoon's session had a fall practice feeling.
After driving onto the practice fields in his golf cart, owner Jerry Richardson watched the early part of the session while chatting with head coach Ron Rivera.
Fifth-round cornerback Corn Edler sat out most of practice after trainers put a sleeve on his right knee. Elder's knee was sore, according to Rivera, who joked, "These Florida guys aren't used to bitter cold."
The main takeaway from the day: Christian McCaffrey is different. He impressed with his speed and quickness while in shirts and shorts during the early session. He began the second by snagging a screen pass with his left hand like it was nothing before he sprinted down the sideline. Later, he used a double-move to zip past an unsuspecting linebacker in one-on-ones. McCaffrey was easily the most impressive player on the field.
Second-round pick Curtis Samuel wasn't shabby, either. He flew past defenders for what would have been long touchdowns in both one-on-ones and team drills.
The Panthers began the weekend with three open roster spots. One could go to receiver Marvin Bracy, who's faster than even McCaffrey or Samuel. Bracy redshirted at Florida State but then dropped football to concentrate on track. A third-place finish in the 100 meters last summer put him on the U.S. Olympic team. He showed off that speed by blowing past a defender for a long completion in one-on-ones.
Former Charlotte 49ers wideout Austin Duke was having a real nice day until he dropped a couple of passes near the sideline in team drills.
New assistant wide receivers coach Jerricho Cotchery spent a lot of time chatting with Keyarris Garrett, who spent last year on the practice squad. Garrett has a chance to stand out this weekend, but he didn't on Friday.
Brian Blechen, who's spent most of the past two seasons as a practice squad linebacker, has switched to safety, the position he played in college. He's down 20 pounds and now weighs 215. "I feel way better," said the Utah product, who snagged an interception off a tipped pass during team drills.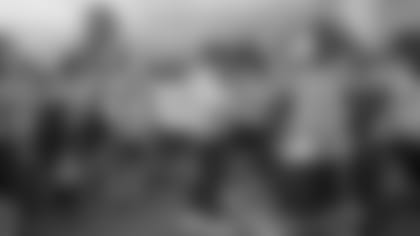 Session One Observations:
Because players were in jerseys and shorts, the first of three sessions at the Panthers two-day rookie minicamp was a glorified walkthrough. We'll be able to glean more meaningful takeaways from the afternoon session when guys are in helmets. For coaches, that will be an important time to see how much players retained from the morning installations.
But the early session did provide a number of takeaways, most notably, how quick McCaffrey appeared. He was either sprinting while everyone else was jogging or he's just that much more sudden. Former Charlotte 49ers receiver Austin Duke, who's here as an undrafted free agent, wowed at how "crisp" McCaffrey was in his cuts.
McCaffrey has brought some of his traditions from Stanford to Charlotte. He wore his familiar black headband and ran onto the practice field with a "point up to God" chest tap he uses as a touchdown celebration.
Remember how hands-on former receivers coach Ricky Proehl was on the practice field? His replacement, Lance Taylor, is just as active and vocal.
Wide receiver Curtis Samuel's route-running was as advertised. The second-round pick needs some refining, but he looked much smoother than a guy who's played out wide for a little over two years.
Taylor Moton, who the Panthers picked up late in the second round, saw snaps at right and left tackle.
Third-round pick Daeshon Hall looked every bit of 6-foot-5, but it's clear the 265-pounder needs to add some muscle.
At 5-foot-10, fifth-round cornerback Corn Elder is the shortest cornerback at minicamp. He saw some reps at outside corner, but the bulk of his work was at nickel, as expected.
Fullback Alex Armah, the Panthers' sixth-round pick, is a big boy. But the 6-2, 255-pounder is also the biggest project of his draft class.
It's not like incumbent kicker Graham Gano is short. He's 6-2. But seventh-round pick Harrison Butker, who's 6-4, is strikingly tall for a kicker.
Maybe it's the bleach-blonde hair at the top of his head, but undrafted wideout Fred Ross doesn't necessarily look 6-foot-2. He looked good in the first session though, especially when he made a tip-toe grab deep down the left sideline.
Former Clemson linebacker Ben Boulware was so excited to report on Thursday, the undrafted rookie arrived 90 minutes early and took a nap in his car until he was allowed in. He didn't sleep outside the practice fields last night, but if I told you he did, you'd probably believe it, right?