After months of speculation, it all comes down to this. OK, not this exactly, but you know what we mean.
Draft time is finally upon us, and with mountains of information (and misinformation) at our fingertips, the Panthers.com crew presents final guesses at what will go down when the Panthers are on the clock at No. 8.
Knowing general manager Dave Gettleman, he'll turn in the card faster than you can read this, and the waiting and wondering will be over - just like that. The guessing game will give way to the cottage industry that is the second-guessing game, but before that happens, here's what we've got.
Bill Voth's pick: Stanford RB Christian McCaffrey
Before I get to my reasoning, full disclosure: As of Tuesday afternoon, my best guess would have been Stanford defensive end Solomon Thomas. That's because rumblings he could slide to the Panthers at No. 8 were growing louder. And no matter who's available at running back, if Thomas is still on the board, Carolina would waste little time taking him off of it.
But more recent chatter indicates the Chargers would pounce on Thomas if he's there at No. 7, so that leads me back to a pick that will surprise no one if it happens.
The Panthers, who liked McCaffrey early in the pre-draft process, went to the NFL Scouting Combine thinking he'd thrust himself firmly into first-round discussions. That's exactly what happened. Then, as we've seen over the past few weeks, McCaffrey became the consolation prize behind LSU's Leonard Fournette. But I'm not convinced Carolina's decision-makers unanmiously see Fournette as the clear-cut pick if it came down to him and McCaffrey.
Ultimately, I'm guessing that call will be taken out of the Panthers' hands when Fournette goes in the top seven. And that would leave McCaffrey sitting there at No. 8 for a team who believes he's much more than a consolation prize.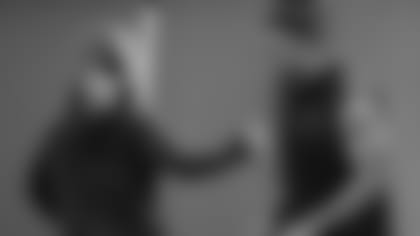 Max Henson's pick: Stanford DE Solomon Thomas
Bill's logic is sound. For the reasons he mentioned, I agree that McCaffrey is the best guess. But to provide a different flavor, I'm going to talk about a best-case scenario, the one where McCaffrey's teammate at Stanford falls to No. 8.
Thomas offers versatility as a pass rusher who can play on the edge and slide inside. He's got size, athletic ability and an impressive motor. All of that makes him a candidate to come off the board as early as second overall. And all of that makes him the type of prospect Gettleman would covet.
If the 49ers go in a different direction, and if a team like Chargers opts for a safety (a position they've long been linked to), then I could see Thomas to the Panthers happening. And if it did, Carolina would have a young, blossoming pass rusher to work alongside productive veterans Julius Peppers, Mario Addison and Charles Johnson. Sign me up.
Bryan Strickland's pick: Alabama TE O.J. Howard
Since Max offered up a best-case scenario, I feel compelled to offer up a worst-case one, but don't fret. As you'll see, there is just enough top-flight talent that the Panthers should be pleased with their pick no matter what happens in front of them.
If both bandied-about running backs and Thomas already have been scooped up – not a farfetched set of circumstances – the Panthers could choose to inject some new life into the offense with the top tight end in the draft class. No tight end has been selected this high since Vernon Davis went sixth overall 11 years ago, but few tight ends have the upside and athletic ability of Howard. Pair him with perennial Pro Bowl pick Greg Olsen right now and watch defenses scramble, and when Olsen eventually hangs them up, Howard can carry the mantle.
Now, there is a fascinating scenario where Howard too is gone along with the two running backs, Thomas, safety Jamal Adams and defensive linemen Myles Garrett and Jonathan Allen. What then? Those exact seven going 1-7 to me is the scenario where the Panthers would be most likely to trade back, but they certainly wouldn't have to. Two of the top three defensive backs (cornerback Marshon Lattimore and safety Malik Hooker), a top-three defensive lineman (Derek Barnett) and the top three wide receivers (Corey Davis, Mike Williams and John Ross) would still be sitting there.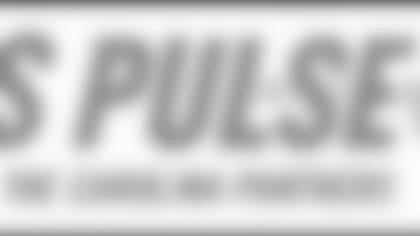 ](https://nfl.csharmony.epsilon.com/pc/clubs/Panthers/Account/register)