1. RICHARDSON TAKES IN PRACTICE: Head coach Ron Rivera got a charge out of seeing Carolina Panthers Owner/Founder Jerry Richardson attend practice Thursday.
"I was glad he came out, and know the players were," Rivera said. "It was kind of funny to watch some of the guys go over and talk to him. He always has something for them."
And the players have something that puts a smile on Richardson's face.
"We know that it's big for him, to have a team that's successful," said linebacker Thomas Davis, a team captain for the NFL's lone unbeaten team. "Being 'Big Cat', it's a special moment. We hope that he's enjoying every minute of it."
At this point in the season three years ago, the Panthers were 3-8, and chatter outside of Bank of America Stadium turned to whether Rivera would get a third season as head coach. Inside the building, however, the discussion was different, and the Panthers rallied to win four of their final five games and can now clinch their third consecutive NFC South title Sunday in New Orleans.
"I know from my conversations with him that he's pleased with the progress that we've made," Rivera said. "You go back to three seasons ago and what a lot of people speculated on, but the one thing he always told me was that he was going to be patient. I've always appreciated that, and now he's seeing the benefit of that.
"We have a good working situation here between us and operations – it's been tremendous – and I know he's pleased with that as well. As we go forward and continue to work at it, he sees us improving. That's a big positive."
2. BENJAMIN GETTING BETTER: Thursday marked the first time during the regular season that the media has seen Richardson at practice. After practice in the locker room, reporters got a rare look at wide receiver Kelvin Benjamin, who much like Richardson is actually around all the time.
"It hurts because I'm not there for those memories. Going through an undefeated (run) is just fun," Benjamin said. "But I'm back there working behind the scenes to get better."
Benjamin is in most days rehabbing his surgically repaired left knee, an injury suffered at training camp that prevented him from following up on his 1,000-yard rookie season.
The Panthers miss their big-play target, but he's proud that his teammates haven't missed a beat.
"The team is going out there playing for each other and having fun," Benjamin said. "That's all that matters."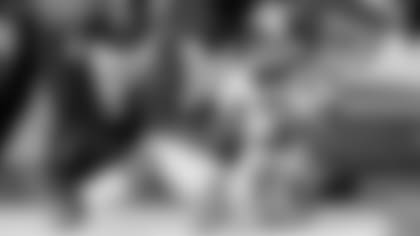 3. WELL RED: Benjamin provided a big red zone target for quarterback Cam Newton last season, yet the Panthers have still managed to pick up their level of execution. Carolina has scored touchdowns on 62.8 percent of its red zone chances so far this season – sixth-best in the NFL – after ranking 26th last season at 48.2 percent.
"I would say no," Rivera said when asked if he was surprised by the improvement without Benjamin. "The reason I'd say that is because of our effectiveness running the football right now. That's been one of the big things that's been good for us, as well as the tight end position – which was good last year as well."
Rivera also mentioned the importance of rookie Devin Funchess' development and veteran Jerricho Cotchery's reemergence in and near the red zone. Cotchery scored 10 touchdowns for the Steelers in 2013, and while he has just one touchdown this season, he's made several clutch third-down receptions to set up scores.
4. JOHNSON ANXIOUS: Defensive end Charles Johnson suffered a hamstring injury back in Week 3 against the Saints that sidelined him for seven games. He should get lots of playing time in the rematch, his second game back.
"We'll get Charles in the mix a little bit more," Rivera said. "We only gave him a little more than 20 plays last week, and in his fashion, he subtly complained to me about it.
"He's in good shape and practiced really well this week. He'll get more of an opportunity."
Johnson played 24 defensive snaps – 41 percent – in Carolina's victory over Dallas on Thanksgiving, recording one tackle. The Saints have contained Johnson of late, limiting him to 1.5 sacks in the teams' last five meetings.
5. INJURY UPDATE: Defensive end Kony Ealy (neck) practiced fully Thursday after "sleeping on it wrong" the day before, but defensive end Mario Addison (ankle) and cornerback Charles Tillman (knee) remained out.
"The biggest thing is that Mario got out of his cast this morning and is moving around pretty well," Rivera said. "The cast was just to keep the swelling down. He moved around pretty good without it but didn't get on the field, so it's obviously going to be a little time.
"Charles, they had him out of the field doing some position stuff, but we're not going to push it."
View photos from the Panthers' week of practice leading up to their game against the Saints.