The Panthers concluded the first week of organized team activities (OTAs) on Thursday. Below are five observations from the two-hour session.
1. Newton's presence felt
Quarterback Cam Newton was a spectator during OTAs last year as he recovered from ankle surgery, but this year he's on the field and setting the tempo.
His energy Thursday was off the charts. He entered the huddle with emphatic high fives all around, he ran 50 yards downfield to celebrate with receivers who reached the end zone, he applauded the protection the second-team offensive line provided quarterback Derek Anderson.
"He's a leader. As the quarterback, it starts with him first," wide receiver Ted Ginn, Jr. said. "For him to come out and put his all into it, why not us? That's what it's about – feeding off the next man. Luckily, he's our big dog so we get to feed off the best man."
Newton's enthusiasm was notable and so was his performance from the pocket. He displayed nice touch on deep throws and had his trademark zip on intermediate passes to familiar targets like tight end Greg Olsen. He ran without hesitation and looked completely healthy.
"It's definitely (infectious)," wide receiver Corey Brown said of Newton's energy. "We started off super slow as an offense, but Cam kept everybody up and kept talking, kept talking. All it takes is for one play to be made, and when it was made it spring boarded everybody."
Speaking of Corey Brown, the second-year wide receiver was on the receiving end of several deep touchdown throws from Newton. Brown said he's gained about 10 pounds and is faster. It showed.
"We are definitely picking up where we left off last year," Brown said. "You can tell (Cam's) been working. I've been working. And we just click."
Brown was exhausted from all the deep routes he ran Thursday. He said the added weight plays a role in that and he's still adjusting to it. We'll have more on Brown's preparation for year two in the days to come.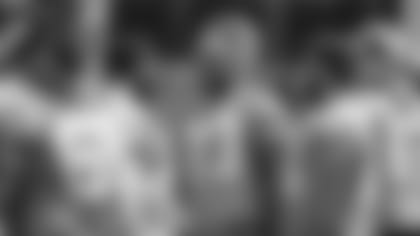 As expected, Michael Oher, who was signed as an unrestricted free agent, is working at left tackle.
"It feels good," Oher said. "I've always felt that left tackle was my position. I'm going to put in the work to not let these guys down."
Mike Remmers is the first-team right tackle, where he impressed at the end of last season. Rookie Daryl Williams, who will compete with Remmers for that spot, worked as the second-team right tackle.
Guards Trai Turner and Andrew Norwell, who solidified the line as rookies last year, lined up as the first-team right guard and left guard respectively.
4. Alexander taking right approach
Defensive end Frank Alexander got some work with the first-team with Charles Johnson getting a "veteran" day, and head coach Ron Rivera has been impressed with the way Alexander is approaching a critical point in his career.
Alexander played in just one game last season after being suspended twice for violating the NFL policy and program for substances of abuse.
"Frank is doing a nice job," Rivera said. "He's showing that he's hungry. He's got a lot to prove personally. I think he feels that way. And he's been working that way. This is his make or break season."
5. Young getting his chance
Cornerback Lou Young stood out during rookie minicamp, and he made some plays on the ball Thursday. He had a heavy workload with cornerbacks Charles Tillman and Bene Benwikere not practicing and eventually needed to head in for intravenous fluids after a hard day's work.