1. RIVERA'S REACTION: Head coach Ron Rivera liked what he saw from the Panthers – both the players and his fellow coaches – over the course of the first week of organized team activities.
"We came out with the right attitude," Rivera said. "Our guys were focused and did a lot of good things. There are a lot of things we still have to make corrections on, but I was very pleased."
Rivera was particularly pleased with how players responded to coaches in new roles. Last year at OTAs, Steve Wilks was secondary coach while Thomas McGaughey was assistant special teams coach. Now Wilks is defensive coordinator and McGaughey is special teams coordinator.
"I thought the defense responded very well to him. He handled his first three days at practice outstanding," Rivera said of Wilks. "Special teams have been sharp. I was really pleased with that. Thomas (McGaughey) now having had a whole year under his belt along with (assistant) Chase (Blackburn), they're really handling that group nicely."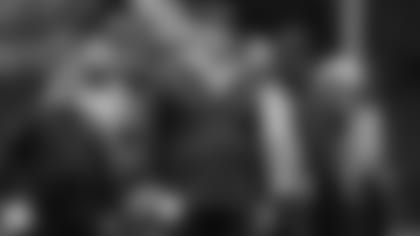 2. BENJAMIN BOUNCING BACK: Rivera also said he was "very excited" about what he saw from Mike Shula's offense. His assessment included the work being put in by wide receiver Kelvin Benjamin, whose weight has gotten heavy play over the last few weeks.
"I'm really pleased with Kelvin. He's done the things we've asked him to do," Rivera said. "A lot was made about his weight early on. I thought that wasn't fair because all of this is voluntary. He's worked his way into shape. He's done a nice job. His route running has been very sharp.
"He's worked very hard. He has focused in on what he needs to do, and he's done that. Now we as coaches have to stay on him to make sure he continues to do the right thing."
3. NEWTON'S PRESENCE FELT: Rivera wishes Benjamin could be catching passes from quarterback Cam Newton, but Newton isn't expected to throw during the three remaining weeks of the offseason workout program as he continues to rehab from shoulder surgery.
Still, his impact has been felt.
"You know Cam – he can be a force whether he's practicing or not," Rivera said, referencing Newton's energy and interjections during team drills. "He's getting a lot of work in. He's behind the offense, getting a chance to see everything, and he has the mic on so he hears what the calls are. He gets a chance to see it from a different perspective."
4. MISSING MCCAFFREY: First-round draft choice Christian McCaffrey is seeing things from a different perspective, and Rivera wishes it didn't have to be that way.
Per NFL rules aimed at creating a level playing field, the Stanford product isn't allowed to take part in offseason work until after Stanford's school year ends – even though McCaffrey isn't currently enrolled.
"If the young man chooses not to enroll, I think he should be allowed to (participate)," Rivera said. "We can forward everything to him. He gets a chance to look at it (on an iPad), and then they'll Facetime and talk about it.
"It won't be a big setback for him. The only real issue comes from familiarity, from getting comfortable from working with each other."
McCaffrey is expected to take part in the mandatory minicamp that will wrap up the offseason in mid-June and could be back for the last of the OTAs leading up to minicamp.
5. ROAD WOES: While we're looking at Rivera's wish list, he was asked about the Panthers' schedule that includes a Week 1 road trip for the fourth consecutive season.
"That's my only disappointment - I've been the head coach for almost seven seasons now, and we've only opened up at home once," Rivera said. "It would be nice to be home for the first weekend for our fans more so than anything else. We have a tremendous amount of fan support in this town, and it would nice for them to have that energy the very first week and getting an opportunity to start fast."
Rivera also was asked about rules changes approved by league owners earlier this week. He considers the reduction of overtime in the regular season to 10 minutes a good move for the sake of the players and said the loosening of restrictions of touchdown celebrations will have to be closely monitored.
"Easing up on the celebrations, it's still a fine line," he said. "It can't be taunting, and it's got to be in good taste."
View photos from the first week of Carolina's organized team activities.