WR Devin Funchess, DE Charles Johnson and/or TE Brandon Williams: You may or may not be able to watch any or all of the above, but it's certainly worth watching how it plays out. Funchess, the Panthers' second-round rookie, looked good in the preseason opener but tweaked his hamstring the same day Carolina lost top receiver Kelvin Benjamin for the season. Funchess recently returned to practice along with Johnson (calf) and Williams (groin) who are yet to play in the preseason but are determined to do so.
OT Daryl Williams: All things considered, the fourth-round rookie may be the best lineman not in the starting lineup right now, and his value in on the rise. He's been backing up Mike Remmers at right tackle but is now getting some first-team reps there and some looks at left tackle behind Michael Oher. Look for Williams to potentially face New England's starters some if Remmers slides over from right tackle to the center spot normally handled by injured Ryan Kalil. Williams also could gain some valuable experience on the left side after Oher calls it a night.
QB Cam Newton: All eyes are on the quarterback all the time anyway, but against the Patriots the coaching staff will be looking for consistency from its signal caller. Newton capped his first two preseason games with impressive drives but only after very slow starts – a formula the Panthers have gotten away with so far but can't afford to keep up.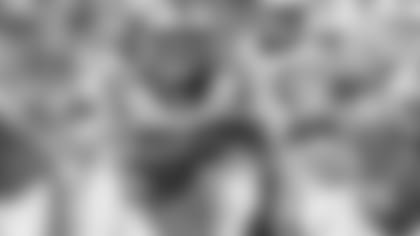 RB Brandon Wegher: Wegher is a big part of the reason the Panthers have overcome slow starts, with the undrafted rookie totaling three late touchdowns in Carolina's two preseason victories. He's made an already intriguing competition for roster spots all the more interesting, and now we'll see if he gets a chance to show he can perform on the same level against perhaps even New England's starters.
DT Kyle Love: Head coach Ron Rivera said Love, who played his first three seasons with the Patriots, has been Carolina's most consistent defensive lineman to date. Signed in December, Love is making a push to remain on the roster, taking advantage of injuries to Kawann Short and Star Lotulelei. Short could return to action against New England, and it might be interesting to see how Love can perform if paired with him.
View practice photos from the third week of the preseason.