1. Players react positively to coach's callout: Moments after head coach Ron Rivera summoned his team into a huddle in the middle of practice to criticize the level of execution, both sides of the ball responded.
A special teams period that immediately followed Rivera's outburst lent little insight into the players' reaction. But in the team period that followed, both the offensive and defensive coaches expressed pleasure in what they saw on the majority of the snaps, no small statement in a setting where there's typically a winner and a loser.
The best example came on a beautifully placed throwback pass by quarterback Cam Newton to running back Cameron-Artis Payne. Both principle offensive players did notably good things, but defensive end Kony Ealy was in Newton's face, and the defense was in position to bottle Artis-Payne up after his reception.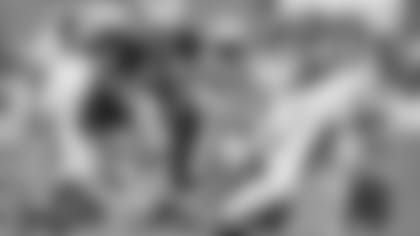 2. Cornerbacks continue to learn: In some early one-on-one drills, the Panthers' rookie corners got some object lessons. When wide receiver Kevin Norwood beat Daryl Worley deep, secondary coach Steve Wilks talked to Worley about how not being physical enough at the line of scrimmage turned it into a "track meet" situation. On the next snap, Wilks was able to talk to Zack Sanchez about not being sucked into fakes by receivers on a Damiere Byrd catch.
For fellow rookie James Bradberry, there wasn't much Wilks could say during the drill. Bradberry did a really nice job hanging with Kelvin Benjamin on a short route and forcing an errant pass, but Bradberry was powerless when Benjamin used his big body to perfection to haul in a long pass later in the sequence. Mostly powerless at least – Bradberry said he forced Benjamin out of bounds to technically deny the reception.
3. Veteran defensive backs make plays: Safety Colin Jones came up with his second two-minute drill interception of camp, stepping in front of Byrd for a pick. Prior to that, the defense didn't let Cam Newton and an offensive unit comprised predominantly of backups make any forward progress. Then toward the end of practice in a regular team drill, cornerback Robert McClain came up with his second interception of camp, the second of the day thrown by Anderson, who also was picked off earlier in camp by McClain in a two-minute drill.
4. Garrett enjoys good day: Undrafted rookie receiver Keyarris Garrett made some noise in Monday's practice, and so did Panthers fans in kind. Garrett went over the top of Sanchez for arguably the best catch of the day and his best of camp, drawing a nice round of applause. He later made a catch on a nice route in team period. Receiver Avius Capers had a good day as well with a pair of nice plays in short order.
5. Physicality at the point of attack: The Panthers worked on blitz pickup early in practice, with running backs and tight ends charged with slowing down oncoming linebackers and defensive backs. Rivera has said running back Brandon Wegher is a bit behind Artis-Payne in this area, but Wegher was on point Monday. Later, in one-on-one showdowns between linemen, rookie defensive tackle Vernon Butler powered his way through offensive tackle Jordan Rigsbee, and Ealy enjoyed several solid reps.