1. Things heat up in the red zone: It was an action-packed red zone drill during Saturday's practice in shorts and shells.
The drill started off with a precise pass from quarterback Cam Newton to wide receiver Kelvin Benjamin in the corner of the end zone, but Benjamin couldn't quite hold on.
Later, safety Tre Boston rose up to knock down Newton's rocket toward the back of the end zone. The first-team action concluded with linebacker Thomas Davis stopping Newton's rush up the middle, which prompted plenty of chatter on the way back to the sideline.
The trash talk between the two captains has become a staple of training camp, and the intensity ratcheted up on Saturday. Head coach Ron Rivera downplayed the barking, however.
"Just a couple of Chihuahuas chapping - that's all," Rivera said. "They like to push each other's buttons, and that's fine. They like to compete."
2. Funchess flashes again: Wide receiver Devin Funchess, who scored Carolina's only touchdown against the Ravens, was back it Saturday.
He got behind the secondary with a corner route, and quarterback Derek Anderson connected with him for a big gain in the 9-on-9 period. Moments later in team, Funchess ran by everyone down the middle of the field for a long touchdown reception from Anderson.
"Funchess had a good day, he really did," Rivera said. "It's a reflection of the way he's been practicing, the way he's been playing. He's been doing some really nice things. You see the growth. It's exciting to watch him out there."
3. McClain denies offense: Newton tried to go back to Funchess at the end of a move-the-ball period, but cornerback Robert McClain turned the offense away.
McClain intercepted the fade pass and secured the ball, much to the delight of the defensive players and coaches.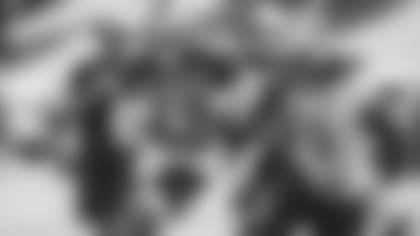 4. Delaire holds his ground: Defensive end Ryan Delaire's discipline earned him praise.
Newton was looking to turn upfield on a naked bootleg, but Delaire read his keys and was there to cut him off for no gain. That's the kind of disciplined play coaches crave.
5. Richardson makes an appearance: Panthers Owner/Founder Jerry Richardson stopped by practice and spent some time chatting with Rivera.
Richardson was accompanied by Bob Prevatte, who coached him at Fayetteville High School, and Hall of Fame running back Curtis Martin.
View photos of Carolina's 12th practice at training camp.