1. Shaq makes the play of the day: Linebacker Shaq Thompson made an impact right at the start of the 9-on-7 drill, stripping the ball from fullback Mike Tolbert on a run up the middle.
But it was his play in coverage during the team period that stole the show.
Quarterback Cam Newton tried to loft a pass to tight end Greg Olsen, but Thompson closed quickly to tip the ball with one hand and corral the interception.
"Shaq has really come a long way," head coach Ron Rivera said. "He had a really good OTAs and minicamp, and he's done well the first few days of practice."
After the second-team offense stepped in, Newton walked over to the defensive sideline to say a few words to Thompson.
"Congratulations," he said. "You made a play 58 couldn't make."
2. Twin towers at it again: Wide receiver Kelvin Benjamin laid out for another terrific catch over the middle, but it was fellow wideout Devin Funchess who recorded the offensive play of the day.
Funchess battled safety Kurt Coleman and cornerback Daryl Worley to come down with a deep ball from Newton in the end zone, much to the delight of the large crowd in attendance.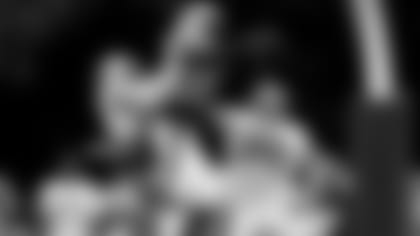 3. CAP takes advantage: With Jonathan Stewart getting a veteran day off, running back Cameron Artis-Payne got some extended work with the first-team and made it count.
During the 9-on-7 period, he maneuvered through traffic to find running room between the hashes for nice gains.
During the team period, he showed great patience on a stretch play before accelerating through the second level.
4. Butler center of attention: With the pads on for the first time, head coach Ron Rivera had the team circle up to watch some 1-on-1 battles at the start of practice.
First up to lock horns was first-round pick Vernon Butler and undrafted rookie Jordan Rigsbee. Next was defensive end Rakim Cox versus offensive tackle Daryl Williams. Cox used a slick swim move to get past Williams and ignite his defensive teammates.
5. Tight ends trending up: Rookie tight end Beau Sandland showed impressive stick-to-itiveness Saturday. Cornerback Teddy Williams de-cleated him on a short, timing pass during 7-on-7, something the offensive players didn't appreciate. But Sandland bounced back up and responded with a nice catch down the seam a few plays later.
Meanwhile, tight end Scott Simonson has quietly been making strides. Simonson, who made a tough catch against the sideline Saturday, has gotten some work with the first team behind Greg Olsen and Ed Dickson.
View photos from Carolina's third training camp practice.