1. Keeping practice in perspective: The defense appeared to rule the day in the oppressive heat, but don't be so fast to judge, cautioned head coach Ron Rivera.
"Just because a guy throws an interception doesn't mean everybody else plays poorly," Rivera said. "I'm sitting there watching the offensive line block, and we're getting six, seven yards a crack, and I'm getting concerned about the defensive side.
"If one guy's not playing well, that doesn't mean the other 89 aren't."
Quarterback Cam Newton threw two interceptions and completed just one of his five passes in the day's first team period, and running back Jonathan Stewart fumbled on a Newton handoff. But Rivera was pleased with the offensive line, so he reminded the media that a turnover shouldn't discount the entire offense. And, of course, a takeaway can be a feather in a defense's cap as much as it can be a mark against the offense.
The same concepts apply to reading too much into the depth chart based on practice. With defensive ends Kony Ealy and Charles Johnson out of action, Ryan Delaire and Wes Horton ran with the first team. That could be a testament to their level of play, or it could mean that, for example, Mario Addison wasn't out there because the coaches already know what they have in him.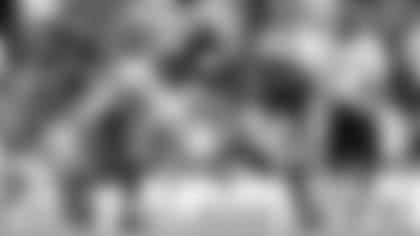 2. Shaq attacks again: On the other hand, there's really no misconstruing how second-year linebacker Shaq Thompson is performing so far. He made the play of the day for the second consecutive practice, breaking on an out intended for wide receiver Brenton Bersin and showing great body control while picking a pass on the day's first team play.
Newton got a little revenge at the start of the second team period, delivering a strike down the sideline to tight end Ed Dickson behind Thompson. In the third and final team period, however, safety Kurt Coleman lunged to pick off Newton on a pass intended for Devin Funchess.
3. Keeping physicality in perspective: The physical nature of practice appeared to kick up a notch Sunday, mostly but not entirely in productive ways. In one-on-one drills, center Ryan Kalil looked like the perennial Pro Bowler he is, particularly on a textbook stuff of defensive tackle Star Lotulelei, who often requires two blockers to take him out. The block particularly thrilled offensive line coach John Matsko and Ray Brown.
On the other end of the spectrum, cornerback Teddy Williams got a little too aggressive for the offense's comfort for the third time in camp, bringing Bersin to the ground hard enough that Bersin quickly popped off the turf and slammed down the ball.
"Gotta be smarter than that," Rivera calmly reiterated to Williams.
4. Deep thoughts about defensive front: "It's a great battle," Rivera said when asked about the depth of the Panthers' defensive line. "As a coach, you're always concerned that you may have to release a really good football player."
It's a good problem have but a potential problem nonetheless. Rivera praised the work of defensive tackle Paul Solial, a former Pro Bowler who could find himself in a real battle for a roster spot. The talent along the defensive front goes deeper still, with tackle Chas Alecxih and end Rakim Cox putting some serious pressure on quarterback Derek Anderson on back-to-back snaps.
5. Gano on point: Kicker Graham Gano's only competition at training camp is with himself, and he showed why he currently stands alone at the position.
A special teams session started with an extra point kick, then Graham and the unit moved forward for a 28-yard field goal (recall that PATs are now 32 yards). From there, Gano backed up about three yards for every kick and nailed all eight of his attempts, capped by a 46-yarder.
View photos from Carolina's fourth training camp practice.