1. Panthers pick up the pace: For the first time in training camp, the Panthers devoted a period to the two-minute drill, beginning with the first-team defense against the first-team offense. Starting at its own 38-yard line and needing a touchdown with 1:25 on the clock, the offense directed by quarterback Cam Newton cashed in.
The defense's best chance to thwart the march went awry when Newton hit wide receiver Kevin Norwood open over the middle for a 27-yard catch and run down to the 7. On the next play, Newton threaded one to receiver Philly Brown in the back middle of the end zone.
"This is how we do it!" Newton said in celebration, roughly to the rhythm of the 1990s hit song of the same name.
2. Defense gets it back: After Newton marched the No. 1 offense down the field, the defense won three battles between the second and third teams – all with interceptions. Cornerback Lou Young made arguably the play of the day, breaking hard on a Stephen Hill route and fighting for an interception of Derek Anderson to quickly end the drill. Hill, recovering from a knee injury suffered at last year's camp, sat out the latter part of practice.
Anderson got a second chance and slowly pushed the offense inside the 30, but with defensive coordinator Sean McDermott imploring his defense to play smart and give up the small gain if need be in exchange for time off the clock, the defense prevailed again. On fourth-and-13 from the 32, cornerback Robert McClain picked off a pass to end it.
The third team's opportunity ended early as well, with safety Colin Jones stepping up to pick off quarterback Joe Webb, nearly returning his interception for a touchdown.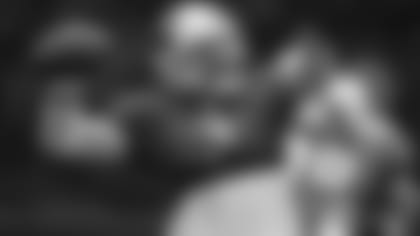 3. Cam under control: In team periods on either side of the two-minute action, Newton did some good things. In the first two team periods, Newton completed 5 of 8 passes. Notably, four of the completions were of the "layup" variety that Newton talked about early in camp - plays where he checked down to shorter stuff rather than forcing something deeper. He did, however, go deep on his last couple of throws of the day, with great success, hitting Brown wide open deep and then Damiere Byrd on back-to-back plays.
4. Early view of defensive ends: Charles Johnson and Kony Ealy are the lead dogs at defensive end, but quality depth at the position is paramount to success. What does head coach Ron Rivera think so far?
"We need to wait a little longer. We need to watch them in games against an opponent," Rivera said. "We know what Mario (Addison) is, we know what (Ryan) Delaire is capable of. We know what Wes (Horton) is capable of.
"Those three guys give us solid guys in terms of backups. We want to see the young guys, too. (Arthur) Miley, (Rakim) Cox and (Larry) Webster – we think those three young guys bring an athleticism to the position as well."
Miley and Cox had strong training camps in their first year with the Panthers last year. Cox left practice early Wednesday unbeknownst to Rivera and for unknown reasons. Webster, signed this offseason, had a nice bat-down of an Anderson pass at the close of practice. Webster is the son of the longtime NFL defensive tackle of the same name.
5. Making their official appearance: Three NFL game officials took part in practice, an annual tradition that helps get them ready for the season while allowing players and coaches to ask them questions.
As is also tradition, Newton questioned the officials in playful ways, getting on them about whether they actually had yellow flags on their person when things weren't going the offense's way and jokingly booing them when Rivera referenced them at the end of practice. Rivera took some extra time after practice to discuss in detail a couple of new rules/points of emphasis.
View photos from Carolina's sixth training camp practice.