1. Olsen vs. Shaq: The tight ends ran routes against the linebackers early in practice, and Greg Olsen's rep against Shaq Thompson was a notable one.
Thompson stayed with Olsen the entire way, but the Pro Bowl tight end went full-stretch to make a tough catch over his head. Thompson couldn't have had much tighter coverage, but it wasn't enough to deny Olsen – not the first time that's happened to a linebacker matched up with No. 88.
2. Linemen lock horns: The Panthers were in shorts and shells on Sunday, but that didn't seem to impact the intensity of 1-on-1 drills in the trenches.
Agile defensive end Mario Addison showed off his explosiveness against offensive tackle David Foucault, using an inside move to catch him off balance.
Offensive tackle Daryl Williams later earned praise by locking up defensive end Ryan Delaire with sound technique.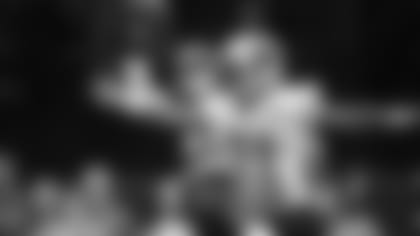 3. Red zone report: Monday's red zone drill began with Pro Bowl defensive tackle Kawann Short stuffing fullback Mike Tolbert in the backfield. But the offense would break through.
Quarterback Cam Newton kept the ball on a zone-read for a 5-yard score up the middle, and wide receiver Kelvin Benjamin made a touchdown catch in the near corner of the end zone.
Two rookies went head to head when wide receiver Keyarris Garrett was targeted in the far corner against cornerback Zack Sanchez, who was able to disrupt the timing and force an incompletion.
4. Marlowe takes it away: Newton decided to give wide receiver Brenton Bersin a chance on a deep ball during the team period, but it was safety Dean Marlowe who came down the ball.
Marlow tracked it well and was able to hang on despite Bersin's best efforts to knock it free.
5. Rivera happy with McClain: Veteran cornerback Robert McClain hasn't made too many flashy plays during training camp, but head coach Ron Rivera has been pleased with his consistency in practice.
"Very steady," Rivera said. "You have a guy who you know is going to be where he needs to be. He's a guy that's going to help us."
View photos of Carolina's ninth day of practice at training camp.