Newton was dialed in during his one and only drive to start the game. The Panthers went no-huddle and he completed 5-of-6 passes for 36 yards – the only incompletion coming on his pass on third-and-goal for wide receiver Ted Ginn, Jr.
"We just wanted to come out and execute and push the tempo," Newton said.
Of course, the reigning NFL MVP also stood out for an unfortunate reason. He was penalized for being an ineligible man on the field (officially an illegal substitution) while linebacker A.J. Klein was returning an interception 90-plus yards to the end zone. Lesson learned.
"I just got too excited," Newton said. "You live and you learn."
The former second-round pick recorded Carolina's only touchdown of the game with a nifty 10-yard catch in the corner of the end zone, but credit also has to go to quarterback Derek Anderson, who placed his back-shoulder throw perfectly.
Ravens cornerback Shareece Wright never had much of a chance against the 6-foot-4, 225-pound wide receiver.
"You're seeing the progress, you're seeing what he's going to add to the offense now because of a little experience," head coach Ron Rivera said of Funchess. "He's learning to use that big body."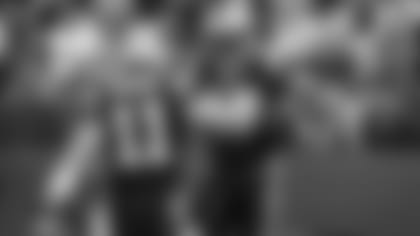 The speedster first made his presence known in the return game. In the second quarter, Byrd exploded through a seam for a 48-yard return. His speed was on display moments later with a 30-yard burst on a return.
"We had great blocks, and we were able to set it up nicely," Byrd said. "Coach Rivera always says if you want to impress him, impress him on special teams."
But his best play came at wide receiver in the third quarter. Third-string quarterback Joe Webb tossed a pass down the left sideline, and Byrd fought off the defender to reel in a spectacular one-handed catch for 35 yards.
"It was just one of those plays were you see the ball and just reach out with whatever hand you have," Byrd said. "It stuck well, and I was happy about it."
But Byrd wasn't happy with how the game ended. With the Panthers trailing 22-19 after the two-minute warning, Byrd muffed a punt and the Ravens recovered. It was a disappointing end to an otherwise impressive performance for the young wideout.
"I walk away from this game with more confidence than I walked in with," Byrd said. "Despite that last play of the game, I think I had a pretty good game."
Said Rivera: "I'm encouraged by his effort and his attitude."
Bersin finished the night as Carolina's leading receiver, recording five catches on six targets for 69 yards.
He kept a drive alive with a 23-yard catch on third-and-17, which led to Funchess' touchdown on the next play.
His toughest catch was a 16-yarder over the middle, where he absorbed a big hit from safety Terrence Brooks and held on. It came at a cost, as Bersin suffered a rib injury, although Rivera was under the impression it's not serious.
It took until late in the third quarter for the Panthers to record their first sack, but defensive tackle Eric Crume made it count when he finally got to quarterback Josh Johnson.
Crume stripped the ball as Johnson was readying to throw and pounced on it at the Baltimore 46-yard line.
View the top photos by team photographer Melissa Melvin-Rodriguez from Carolina's game against Baltimore.