HE ISN'T CELEBRATING PLAYER OF THE WEEK: There are a lot of things that quarterback Cam Newton is excited about right now, but the fourth NFC Offensive Player of the Week award of his career isn't on the list.
"No disrespect," Newton said, "but it's not something I'm proud of myself over because looking back at the game, I could have done things way better. That's my optimism about trying to play a complete game."
Newton also isn't focused on the award because he doesn't think the focus should be on him.
"This isn't the Cam Newton show," he said. "It's all well and good, but never mind what Ryan Kalil did, busting his tail to get back on the field to make my life easier. Or Trai Turner, Mike Remmers, Michael Oher, and then Amini (Silatolu) stepping in – guys that have a selfless approach to this game."
HE IS CELEBRATING VETERANS DAY: Newton also understands that a weekly award isn't important in the grand scheme of things, especially on Veterans Day.
While head coach Ron Rivera's attire from last week's Salute to Service game is headed to the Pro Football Hall of Fame, Rivera and the Panthers enjoyed the latest in a long line of visits by one of the heroes they're saluting this month.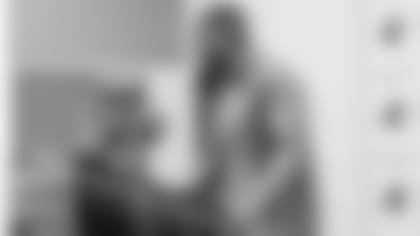 North Carolina native Cedric King, who lost both of his legs and nearly his life when explosives detonated below his feet on a mission in Afghanistan three years ago, was in town to speak to a school group before stopping by practice.
"He's a little firecracker. He motivates a lot of people, including myself," Newton said. "It's just motivating to see a person like him go through so much, and it's another reason why we have a whole month set out to salute the troops."
The feeling is mutual, with King calling the Panthers his heroes. He talked Wednesday about how he marvels at the trust and perseverance the Panthers show on the field, about how they trust the process and are rewarded in kind.
That's something King certainly had to do during his lengthy rehabilitation process at Walter Reed Medical Center in Washington D.C. It was there, shortly after his personal tragedy, that he got the chance to meet the Panthers prior to a game against Washington in 2012. King now lives in the Atlanta area, where his family is in the process of building a house.
"They're building me a man cave," King said. "Half of that man cave is going to be dedicated to the Army, and the rest of it is going to be Panthers everywhere.
"When I want to sit around and be lazy, I watch them and it's like, 'I've got to get up and do something.' Those guys are out there getting better every day, and it's showing."
HE IS MOURNING A LOSS: Newton was saddened to learn of the passing of Elijah Aschbrenner, who lost his battle against cancer at the age of 10. About six weeks ago, Newton was a surprise guest at a Halloween party thrown early for Hughes, whose family presented Newton with a yellow bracelet asking for prayers that Newton still wears to this day.
"I'm so thankful that Elijah was a person I got to touch and talk to," Newton said. "He was so young, but his heart was huge.
"When I went to the party….he couldn't raise his voice, but he said, 'Mom, wipe your tears.' It puts a lot of things in perspective to see a person going through so much to say that, so say that it's OK."
HE IS STILL A KID AT HEART: Newton said he plays the game of football to bring hope to kids like Elijah but also to people you've never heard of but may someday know.
Newton once walked in their shoes.
"When I talk to people, I tell them that if I can make it, anybody can," Newton said. "You're looking at a person six or seven years removed from a stolen laptop – things that people don't really want to talk about – a person that had to go to junior college. Well, there are athletes in junior college right now asking, 'Am I going to make it? Am I going to get a scholarship?' I did all of that, but look at who I am today.
"I'm not saying that to brag or boast; I'm saying it because somebody is in that situation right now where they may have had a mistake that happened, but that doesn't necessarily describe who they are as a person. We all make mistakes. It's all about how you rebound from that mistake rather than just giving up."
Newton certainly has rebounded, and he's going to enjoy the journey. A reporter noticed Newton appearing to smile in the middle of a scramble during last week's victory over the Green Bay Packers.
"It may have looked like I was smiling because I was smiling," Newton said. "If you're not having fun, what's the purpose of being out there?"
HE WANTS EVERYONE ELSE TO HAVE FUN, TOO: Newton was asked about the fan support the Panthers are expected to have when they hit the road for the first time in a month to face the Tennessee Titans.
"I'm excited," he said. "I walk to work, and just feeling the buzz in Charlotte and really the whole Carolinas - it hasn't been like this before, but this is how it's supposed to be.
"You're supposed to have pride in your team. Hopefully everyone in the Carolinas are Carolina Panthers fans. If not, you need to hope onboard."
Added King: "This city is going nuts. People are happy to go to work, and they hate their jobs."
View photos from the Panthers' week of practice leading up to their game versus the Packers.