INDIANAPOLIS – General manager Dave Gettleman and his staff are at the NFL Scouting Combine to continue preparations for the NFL Draft that is now less than two months away, but there's still roster-building work to be done before the draft.
Gettleman, addressing the media Wednesday across the street from Lucas Oil Stadium, offered some interesting insights on what might happen between the combine and draft day.
1. SHORT POISED TO BE A PANTHER IN 2017: The Panthers placed the non-exclusive franchise tag on standout defensive tackle Kawann Short on Monday, much like they did last year with cornerback Josh Norman. But eight days before the 2016 draft, the Panthers rescinded the tag and allowed Norman to become a free agent.
"It ain't happening again," Gettleman said Wednesday.
"Last year was a very unusual situation, pulling the tag off Josh. It was very unusual," Gettleman said. "I put myself in a situation I never want to be, in a situation where we had to get corners. Now, give me a little credit – it was a corner-heavy draft, and we knew that. And at the point where we pulled the tag on Josh, we had really evaluated the corners."
The Panthers technically have the depth to function if Short weren't in a Panthers uniform next season, but that is not Gettleman's plan. The tag designation gives the sides until July 15 to negotiate a long-term deal before having to face the prospect of Short playing under the tag in 2017, but Gettleman said negotiations already are underway.
"So far, the communication has been open, and it's been very amicable," Gettleman said. "So we'll see."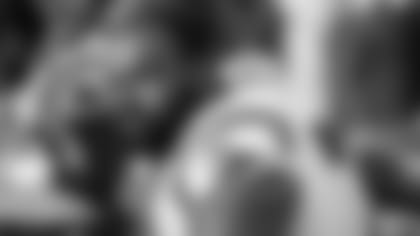 2. OHER'S FUTURE NOT AS CLEAR: Gettleman said that left tackle Michael Oher, placed in the concussion protocol prior to Week 4, remains there.
"You can't deny what's going on," Gettleman said. "We're in the unknown and we're going to move forward. We've got a plan, and we'll just see where it goes."
With Oher's status still up in the air and free agency set to begin in March 9, Gettleman acknowledged the Panthers have "got to entertain" the possibility of adding via a deep group of free agent left tackles. That would also fit with his goal to make sure Carolina doesn't feel forced to pick a tackle or two from a draft class that Gettleman termed "not so strong" overall.
"I want free agency to set up our draft so we can truly take the best player," Gettleman said. "That's what free agency is for. I want to put us back in that spot."
Gettleman said the Panthers would pursue "every means possible" to shore up the spot. His flexibility to act should be helped by the salary cap rising about $12 million for the second consecutive year.
"It different than we I got here. We had to cut guys to get under (the cap), and the next year we had to touch one or two contracts to get under," Gettleman said. "Then over the last three years, we've been able to create some separation, but meanwhile there are some teams that have crazy money under the cap. It gives you flexibility, allows you to expand your thought process. We'll see."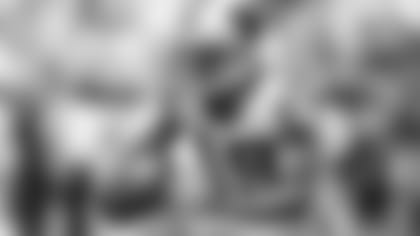 3. PANTHERS PURSUING THEIR OWN FREE AGENTS: Having already re-signed defensive ends Mario Addison and Wes Horton, the Panthers have eight days before their remaining 13 free agents will be on the open market. Gettleman was asked about Carolina's interest in reaching an extension with the two biggest names remaining in the group – defensive end Charles Johnson and wide receiver Ted Ginn, Jr.
"We want Charles back. Just like we want Ted back, we want Charles back," Gettleman said. "I don't discuss negotiations. I don't discuss contracts. Do we want Ted back? Yes. Contracts get done when they're supposed to get done."
4. FOCUSED ON RUNNING BACKS: As far as what Gettleman expects to see from the 325 draft-eligible prospects that will pass through Indianapolis in the coming days, Gettleman said "there's a lot to pick from" at running back, defensive end and in the defensive backfield.
Running back has been a popular position among draft experts and fans in reference to the Panthers' first pick at No. 8 overall, and Gettleman acknowledged that it's a "fair statement" to ask if the Panthers might pick one there or later in the draft.
"This is a deep running back group. We know that," Gettleman said. "You've got to evaluate the film and get the whole picture of every individual running back. Then you talk about fit, and we'll go from there.
"You're looking for vision, feet, hands, blitz pickup. I've said this before, one of the toughest things for these running backs coming in is the blitz pickup stuff. It keeps a lot of them off the field. It's all those factors, and you want to be able to catch the ball as well."
5. CAM AND CO. PREPARING FOR THE CHALLENGE:Quarterback Cam Newton followed up an MVP season with a pedestrian one by his standards, and the Panthers' win total went from 15 to six. Gettleman said Newton and the offense have a grasp on what it will take to trend back toward the form of 2015.
"What a difference a year makes. No one is happy about what happened this past season," Gettleman said. "It was frustrating to deal with. But you have to learn and you have to move on.
"Right now, we are excited about the number of players that are working out. We've got a bunch of guys downstairs. They are getting ready. I've spoken to Cam. He's come through a couple times and looks good. He's positive and upbeat and knows we've got to get better."