INDIANAPOLIS – General manager Dave Gettleman and his entire staff descended on the NFL Scouting Combine with their focus fully on evaluating tomorrow's pros and how they could fit on the Panthers' 2016 roster.
But Gettleman, addressing the media Wednesday at Lucas Oil Stadium, offered some interesting takes on members of the 2015 roster and their potential roles in 2016.
1. STRONGEST INDICATION YET THAT JOSH NORMAN WILL RETURN: Gettleman reiterated what he said after the Super Bowl regarding potential unrestricted free agent cornerback Josh Norman – namely that Gettleman isn't in the business of developing players for other teams.
Then he took it a step further, coming as close as he has to saying that - one way or the other - Norman will be a Panther in 2016.
"We are going to have the conversation and do the best we can," Gettleman said. "We are going to try to get a deal done. If not, there are options, and maybe the tag gets used."
Teams have until March 1 – next Tuesday – to designate a player for the franchise tag. If the Panthers were to exercise that option, they'd have until mid-July to try to negotiate a long-term contract that would supersede the tag, or Norman could play 2016 under the tag.
Gettleman was asked if he was worried about how Norman, one of the most effective corners in the league this past season, hypothetically would react to being tagged.
"No, not at all," Gettleman said. "Josh is a pro. He's a pro."
2. MIKE TOLBERT A VALUABLE ASSET AS WELL: Another potential unrestricted free agent of note is fullback Mike Tolbert, coming off his second Pro Bowl campaign in three seasons.
One could argue that Tolbert was a Pro Bowler in part because there aren't too many teams that prominently feature a fullback anymore, but that's also an argument for Tolbert's value to the run-first Panthers.
"They're hard to find, because you have to remember you don't have many fullbacks in the college level," Gettleman said. "It's kind of a lost art, dying breed kind of thing. But for us, it's a piece that we like, and it gives us flexibility."
The supply-and-demand portion of the Tolbert equation will be fascinating. Does he hold the cards because he's the rare fullback that can fully meet what the Panthers want? Or do the Panthers hold the cards because there might not be many teams interested in handsomely compensating a fullback in today's game?
As always, the truth likely lies somewhere in the middle.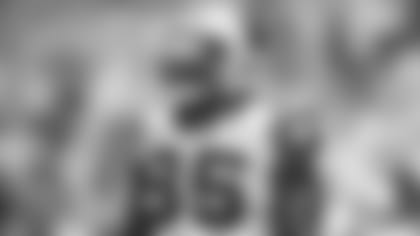 3. CHARLES JOHNSON EVALUATION CONTINUES: In addition to the offseason drama surrounding potential free agents, there's usually a high-paid veteran or two under contract that teams have to decide what to do with.
This offseason, defensive end Charles Johnson appears to fit that bill.
"To me, it's not about what a guy makes, it's about what he brings to the table. It's about the best 53," Gettleman said. "We're going to put together the best team that we can."
So is Johnson, coming off an injury-shortened season in which he recorded one sack after averaging 10.5 sacks over the previous five seasons, likely to remain a part of the best 53?
"We're still going through that evaluation," Gettleman said. "It's hard because he got hurt and had to work his way back, so when is he 100 percent? We're still going through that process."
4. MIKE REMMERS' DEMISE OVERSTATED: In a Round Two of sorts with the media after Gettleman's appearance on the podium ended, he was asked about his comfort level with the team's tackles – specifically right tackle.
"We feel fine," Gettleman said. "Here's what I'll say: We've won 22 of our last 25 games with Mike Remmers starting at right tackle. We've done that. And you know I'm not a knee-jerk guy – I'm not going to do it. I will not do it. I believe in our ability to evaluate our players."
Remmers was victimized by Super Bowl MVP Von Miller more than once in the big game, but Gettleman certainly doesn't think that should equate to the end of the line for Remmers.
"It's like anything else. You always want to get better. I don't know what position it is – you're always going to look to get better," Gettleman said. "But he's young in his career. Give the guy a chance. Don't take one snapshot and then decide we need a right tackle."
5. HOUSEKEEPING ON KEVIN NORWOOD TRADE: Gettleman confirmed that the Panthers will send their seventh-round pick in the 2017 NFL Draft to the Seahawks after acquiring wide receiver Kevin Norwood from Seattle in the preseason. Norwood played in just one game but was on the 53-man roster all season.
"We thought very highly of him in the draft, so our thought process was, for a seventh-round pick?" Gettleman said. "We feel like this guy is going to be a player. Who doesn't want a player for a seventh-round pick?"