1. PANTHERS IN POSITION TO DRAFT SEVERAL IMPACT PLAYERS: General manager Dave Gettleman never wants to "earn" a top-10 draft pick again, but if ever there was a year he might manage to stomach it, it's this year.
And as for having four picks in the top 98? That hits the spot.
"This is a heck of a draft to have a lot of early picks, it really is," Gettleman said at Friday's annual pre-draft press conference. "And frankly, the back end has some interesting characters, too."
In addition to the eighth overall pick, the Panthers hold three picks on the second day of next week's draft: two second-rounders (40, 64) and a third-rounder (98). With draft day fast approaching, Gettleman likened the quality and quantity of high-end prospects to what he might find at his favorite ice cream shop.
"This is the full Ben & Jerry's," Gettleman said, virtually salivating over the possibilities. "There's a real variety of talents and skills and interesting mixes and matches."
Gettleman's apparent giddiness about what the Panthers could add with the eighth overall pick and subsequent early-round selections suggests he would be hesitant to part with any of the picks to move up even higher in the first round.
Then again, he never knows until the draft begins to play out if he might want to scoop someone up.
"We'll see. Time will tell. You've seen that I've moved up before," Gettleman said. "There are going to be some really good players there. For us to trade up in the first round, you're going to have to give up a [second- or third-round pick]. In this draft, do you really want to do that? These are all things I have to consider."
2. CURRENT ROSTER WON'T DICTATE WHO THE PANTHERS PICK: Gettleman said this draft is loaded with talent at defensive end, in the defensive backfield and at running back, but neither that nor how Carolina's current roster looks at those positions will determine what name is handed to the commissioner Thursday night.
"We're in the position I want to be," Gettleman said. "Where we can take the best player available."
Gettleman never likes to reach for a draft choice based on position need, a difficult task in 2016 when the Panthers used three consecutive picks to address a "position catastrophe" at cornerback.
"Last year was an aberration," Gettleman said, "but we came out of it in darn good shape, not overvaluing players."
So even if mock drafters everywhere believe the Panthers will pick a running back at No. 8, that will only happen if a running back is the top remaining prospect on the Panthers' board.
"If there's a position we're particularly strong in and our turn comes to draft and the best player on the board is at that position, I've shown that I'm not afraid to do it," Gettleman said, referencing Carolina's last two first-round picks - defensive tackle Vernon Butler last year and linebacker Shaq Thompson in 2015. "We drafted Shaq two years ago when we were loaded at linebacker. Well, we still are. That's the point. You can't have too many good players at any position."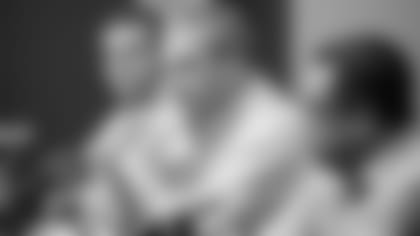 3. WHAT LANDS A PROSPECT HIGH ON CAROLINA'S DRAFT BOARD: "At the end of the day, you've got to run the ball, you've got to stop the run and you've got to rush the passer," Gettleman said. "If you don't do those three things in the NFL, you're not winning – plain and simple."
While that statement speaks somewhat to position preferences, Gettleman said he's impressed by the position versatility of college prospects these days. But while recent NFL rookies have brought a variety of skills to the table, they tend to be jacks of all trades but masters of none as rookies.
"Things are different. When I got in the league 30 years ago, we were getting guys that were literally plug-and-play. They was no limit on the time they could practice, on the time they could spend on football. We were getting players that were fundamentally sound, and you just had to polish the stone a little bit," Gettleman said. "Now we're getting guys who aren't as fundamentally sound, so there's more work to be done with them.
"You've really got to focus on those critical factors, on what's going to allow you to take a guy and develop him."
Those critical factors? Athletic ability, instincts, strength, competitiveness and explosion.
4. SEARCHING FOR SPEED SANS A STOPWATCH: Straight-line speed is a significant component in the "explosion" equation and is something Gettleman values in draft prospects, but he has different view of the attribute than some.
"We talk about play speed all the time," Gettleman said. "You guys know, I am not tied into 40-yard dash times that guys run in their underwear. What I am tied into is how fast a guy plays in his pads."
"We certainly use analytics, and that's part of the process, but if you were just going to go on height, weight and speed on the card, then I'd be going to track meets. I would want those guys," he said. "There are a million guys that can run 4.4, but about 750,000 on those, when they put on pads are probably going to play at 4.7.
"Do we use analytics? Yes. But if he runs fast on the watch, in his underwear, the first thing I'm going to ask the scout is, 'Does he play that fast?'"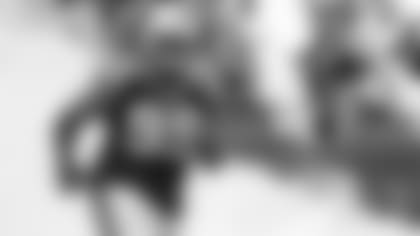 5. GETTLEMAN GLANCES BEYOND THE DRAFT: Gettleman did address the week's two major news items unrelated to the draft, starting with Monday's signing of defensive tackle Kawann Short to a five-year contract.
"Obviously we are excited about getting KK done," he said. "We use a term around here: 'Earn the right.' KK has earned the right. When you are going to sign off on an $80 million deal, you better feel good about it.
"I watched 10-11 games of KK. He is a heck of a player. He is a big-time NFL defensive tackle. He earned the right, and he is going to handle it the right way. He is the total package."
Gettleman also was asked about the Panthers' regular season schedule, which was released Thursday and featured a road game as the opener for the sixth time in seven years.
"The only home opener Ron (Rivera) has had was my first year here – Seattle (in 2013). It's kind of weird," Gettleman said. "But I have no feelings about it. There are 16 games, you've got to play and you've got to play them somewhere. Someway, somehow.
"I look at the schedule and I like it. We've got what we call the 'mini-bye' with the Thursday night game in mid-October, and the bye week is later in November. We've got three home games in December.
"We do have that one stretch (Weeks 4-8) where it's four of five on the road, but the schedule is what it is. Let's just go and play. Kick it off and let's go."