1. Starting with a trip out West: The Panthers' 2017 schedule starts with a visit to Levi's Stadium to face the San Francisco 49ers. It will be the regular season head coaching debut for Kyle Shanahan, who is leading the 49ers after coordinating the high-powered Falcons' offense.
Counting this year's opener at San Franisco, the Panthers have started six of head coach Ron Rivera's seven seasons on the road.
This is the only West Coast trip on Carolina's schedule this year. Last season the Panthers played three games out west.
2. McDermott returns for home opener: Sean McDermott, who served as Carolina's defensive coordinator from 2011-16, will bring his Buffalo Bills to Charlotte for the Panthers' home opener in Week 2.
"I'm excited to open our home schedule with a familiar face in Sean McDermott," head coach Ron Rivera said. "He knows our team well, is an excellent coach and will have the Bills ready to play."
Buffalo is one of three teams – the others being Miami and Tennessee – that the Panthers have never beaten at Bank of America Stadium. The Dolphins also visit in 2017.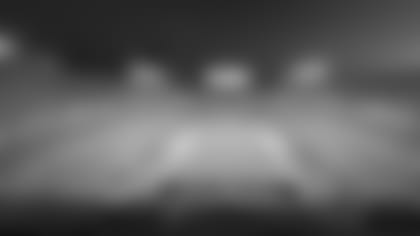 3. Two games in primetime: The Panthers, who were featured in a franchise-record five primetime games last season, are set to play two primetime games in 2017, and they're hosting both. The Eagles will come to town for a Thursday night contest in Week 6, and the Dolphins will visit for a Monday night game in Week 10.
Rivera has not yet squared off against Doug Pederson's Eagles or Adam Gase's Dolphins. Both Pederson and Gase were first-time NFL head coaches last season.
4. Visiting the reigning champs: The Panthers will face the Super Bowl champion New England Patriots in Week 4, and it will be just the third time Carolina has ever played at New England. The most recent visit occurred in 2009.
5. A break in the action: Carolina's 2017 bye comes in Week 11. It's just the third time the Panthers have had a bye week come beyond Week 10 (Week 12 in 2014 and Week 14 in 2001).
Following the bye, Carolina will enter the home stretch of the season. After road games against the Jets and Saints, the Panthers host consecutive games against the Vikings (Matt Kalil and Captain Munnerlyn face their former team), Packers (Julius Peppers faces his former team) and Buccaneers (Russell Shepard faces his former team) before traveling to Atlanta for the regular season finale.
View photos of teams the Panthers will face during the 2017 regular season, presented by PrimeSport.