1. Similar to Seattle? Head coach Ron Rivera believes every game is created equal, but he also believes that after the fact, some games can mean a little extra moving forward.
Sunday's victory at the Patriots could well be one of those games.
"It can be a catalyst, a steppingstone," Rivera said the day after Carolina's dramatic 33-30 victory. "It felt a little bit like what happened a couple of years when we went to Seattle. They were the watermark for us as far as the NFC was concerned, and we were able to have success there and from that point on."
Early in the 2015, few gave much credit to a 4-0 Carolina team that by chance faced a quartet of quarterback-challenged teams to open. That tune began to change, however, when the Panthers went to Seattle and knocked off the two-time reigning NFC champions with a last-second touchdown.
The Panthers went on to finish 15-1 and reach Super Bowl 50. Contrast that to last season, when a rematch of that Super Bowl in Denver to start the season started it off on the wrong foot – a 21-20 loss. That Panthers team finished 6-10.
"Being able to come back against a team like that in Seattle – a team coming off the Super Bowl the year before and having won it the year before that – I think it instills confidence that you can play with them, that we can do those things," Rivera said. "So going to Foxborough and having that kind of success, that's something you can build on certainly."
The 2015 Seattle team technically was struggling entering that game at 2-3, just like the Patriots had stumbled a bit before Sunday, fortunate to be 2-1. But the Seahawks went 8-2 after that loss, and no one would be surprised if the Patriots put up a similar record the rest of the way this season.
More pertinent for Panthers fans of course is how Carolina will do after this victory.
"This is a league where about what you've done lately," Rivera said. "I'd like to believe it is something we can build on, but the truth of the matter is that it's just one game."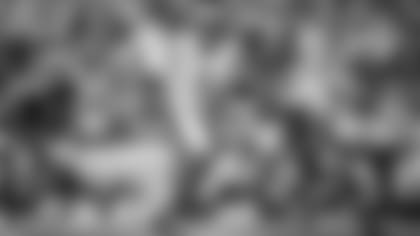 2. Legging it out with Cam: After totaling 46 yards on the ground through the Panthers' first three games, quarterback Cam Newton gained 44 well-timed and valuable yards Sunday. At the same time, he had far and away his best rhythm as a passer to date in 2017.
"I thought it did open up a couple of things," Rivera said. "And now that the threat is there, those backside guys that come screaming off the edge, they as defenders have to think about what they're going to do because there's always that possibility."
Do rushing yards for Newton equate to success on the scoreboard? Entering the season, the Panthers were 27-15-1 when Newton rushed for 40 or more yards. That breaks down to a 16-5-1 record for three playoff teams and an 11-10 record for three non-playoff teams. Those three non-playoff teams went 9-17 when Newton was held under 40 yards.
As for the timing of Newton finally taking off?
"We've been talking about this really from the beginning as to when would be the best opportunity," Rivera said. "A lot of it hinged on when Cam was ready to go, on following what the doctors and trainers wanted us to do and also listening to what Cam what had to say about where he was in terms of how he was feeling and how his body was reacting. We wanted to make sure we did things the right way, and it paid off."
3. Stewart stands alone: While Newton ranks fifth in NFL history among quarterbacks with 3,656 rushing yards, Jonathan Stewart stands alone among Panthers running backs. A 5-yard rush midway through the fourth quarter Sunday put him ahead of DeAngelo Williams as the leading rusher in franchise history. Stewart added 20 more yards before the end of the day to stand at 6,868 yards – 22 yards clear of Williams.
It's quite an accomplishment for a guy who aside from the 2015 and 2016 seasons has essentially split carries since the Panthers selected him in the first round of the 2008 NFL Draft.
"Jonathan is the consummate team player," Rivera said. "It goes back to when he came here and he and DeAngelo worked together and became one of the best tandem of running backs you could imagine. They were both very unselfish and worked together, and because of that resolve, both of them have had tremendous careers.
"He continues to be that unselfish guy who gets his spots and opportunities, and when he gets them he turns into a workhorse."
4. Dinged defense doesn't rest: The offense carried Carolina, but the defense did just enough – not ever easy against Tom Brady and especially not in light of injuries that hurt the cause.
The damage, however, was minimized by the fill-ins doing their jobs during the game and by their coaches putting them in position to do their jobs. Recent acquisition Kevon Seymour started at cornerback in place of an injured Daryl Worley, and at safety another recent addition – Demetrious Cox – played more than half the snaps after Kurt Coleman went down with a knee injury.
"I thought Kevon did a really nice job of being physical at the point rerouting, and his athleticism – he's got some quick twitch that really helps him. Cox did a nice job in terms of being physical and getting downhill," Rivera said. "But having said that, I think our coaches did a tremendous job with the adjustments that had to be made – special teams, offense and defense – and with the play calling. What are you going to do to try to hide certain situations a guy that's hurt? They did a nice job with that.
"Those guys worked very hard to put guys in position to have success."
5. Shoutout to Sean: Rivera agreed when asked if the Panthers' 9-3 victory in Week 2 over the Bills looks even better after Sunday's results. The Bills' 23-17 victory in Atlanta allowed the Panthers to match the Falcons atop the NFC South standings at 3-1, and Carolina's victory allowed Buffalo – coached by former Panthers defensive coordinator Sean McDermott - to stand alone atop the AFC East at 3-1.
"We do appreciate what they did for us," Rivera said. "Sean and I talked this morning. It was a good conversation because they helped us and we helped them."
View the top photos from Panthers at Patriots by team photographer Melissa Melvin-Rodriguez.