1. Safety in numbers: With free safety and team captain Kurt Coleman expected to miss multiple games with a knee injury and replacement Demetrious Cox out Sunday with an ankle injury, the Panthers turned to a safety-by-committee plan that had worked in the past.
Colin Jones, a special teams stalwart usually used on defense in emergency situations, was paired with new addition Jairus Byrd. Jones got the start and played 36 snaps, while Byrd played 24 snaps – many in obvious passing situations.
"It's something we've done in the past as well, when we had Roman Harper and Tre Boston in 2015, and that's something we felt like we could do here," head coach Ron Rivera explained. "We used Colin in certain situations and brought Jairus in for definite passing situations. We felt like we had a combination of guys that we can use and play to their strengths."
Jones finished with five tackles.
"Colin showed us his physical nature playing downhill and made a couple of big plays for us," Rivera said. "But don't dismiss Colin's speed; he's a 4.37 guy who can flat-out run."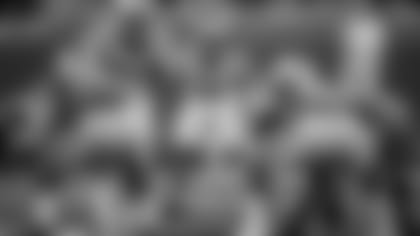 Byrd, signed just five days before kickoff, showed the ball skills that made him a three-time Pro Bowler before injuries slowed his roll.
"We saw a couple of things yesterday that showed us that Jairus has the range that you're looking for at that positon," Rivera said.
2. The end game: The Panthers played a different numbers game along the defensive line, opting to activate rookie defensive end Bryan Cox for the first time over second-year defensive tackle Vernon Butler.
"Vernon was a healthy scratch," Rivera said. "The biggest thing more so than anything else was looking at what happened with Julius (Peppers, bothered by a sore shoulder). We just wanted to be smart. Having Bryan Cox available, we thought now was an opportunity with this type of game – a game that goes sideways – that Bryan would be more suited for.
"Plus if something were to happen to Julius, it's easier in our opinion to replace a DT as opposed to a D-end during the game. That's why we had the extra defensive end."
The Panthers elevated Cox off the practice squad one day before the Week 4 game at New England when Peppers was added to the injury report. Rookie defensive end Daeshon Hall went on injured reserve Friday, so Cox got his shot Sunday and played 16 defensive snaps. Peppers looked fine as it turned out: He played 29 snaps, recording a sack and two tackles for loss.
3. Saluting Shula: Offensive coordinator Mike Shula gets more than his share of criticism from outside sources why things go awry, but the support for him inside the building is strong on good days and bad.
"I've always felt strongly about who Mike is as a play caller and coordinator for us – I think he's done a great job," Rivera said. "We've tried to use the skillsets of the players that we have and have tried to do things our guys are capable of and not forced them to do things they're not capable of. Mike has done a very good job, calling plays judiciously for us as the quarterback worked his way back into shape."
Cam Newton clearly is back in shape, and as such was better capable of executing Shula's game plan for keeping opposing defenses off-balance.
"We targeted eight different guys. We did some screens, did some underneath routes, did some drag routes, some outs, some shallow crosses," Rivera said. "If you're throwing the ball to eight different people and you put it in certain areas, now all of a sudden they've got to counter."
4. Running into trouble: Rivera, citing stats that teams rushing for 100 yards win about 70 percent of the time, knows the Panthers dodged a bullet by winning despite just 28 yards on 28 attempts. The number of attempts kept the Detroit defense honest and helped the passing game, but the number of yards won't often cut it.
"We tried to run the football, and I think that helps. We weren't as successful as we have been," Rivera said. "The problem I have with it is way too many negative plays. That really hurt our running average."
Not counting three sacks (which don't count toward rushing stats) or three victory formation kneels (which do statistically count), running backs lost yardage on six rushing attempts. Six more runs went for 0 or 1 yard.
In Rivera's estimation, it's about execution.
"I'm concerned because that shouldn't happen," he said. "For guys to be able to run through and make negative plays when we're aggressive, hitting hard and doing the things that you want to do to create a surge? We've got to make sure we're paying attention to what's happening.
"If you've got guys who are going to run through you, you've got to come off your double-team a little quicker and pick those guys up. Nobody has an invisible suit out there, so you've got to focus in and concentrate and do your job out there. I know our offensive coaches go through it every day, and we've got young men that are more than capable of making those blocks."
5. Turning the page: In preparation for Thursday night's visit by fellow 4-1 Philadelphia, Rivera and his staff were able to review the Lions game on the plane ride home and were then able to review the Eagles-Cardinals game once home.
The part that's impossible to speed up is the physical recovery for the players that is a reality in the NFL but that fortunately is just as big an obstacle for the Eagles.
"The biggest thing is the challenge of the players being ready to play Thursday night," Rivera said. "A lot of the things that we'll install obviously will be things we've done in the past – with a few wrinkles that they'll have to adjust to.
"For the coaches, it's pretty simple. With the new technology, we got on the airplane and had all the stuff that we needed. We got a lot of work done on the airplane before we landed, so as coaches we're in a pretty good spot."
View the top photos from Panthers vs. Lions by team photographer Melissa Melvin-Rodriguez.