1. Trai bien: Head coach Ron Rivera harps on the importance of rushing for 100 yards, so he had to be doubly pleased Sunday.
The Panthers rushed for a season-high 201 yards in their 20-17 victory over the Falcons. Those who racked up most of the yards – quarterback Cam Newton (86) and running back Christian McCaffrey (66) – had easily quantifiable contributions, but Rivera was just as pleased with those who paved the way.
"Getting a chance to watch the offensive line and some of the things they did, some guys played very, very well," Rivera said. "One guy that stood out was Trai Turner, who I thought by far played his best game of the year and did some really good things that helped us rush for 200 yards. I was very pleased with that."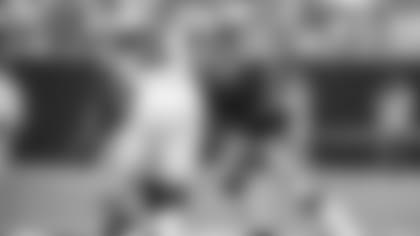 The two-time Pro Bowler has been slowed by injuries on and off this season and wasn't even certain to play Sunday after missing significant practice time with a knee injury. But he played and played well, as all five starting offensive linemen played every snap in Week 9 for the first time since Week 6.
"It was the consistency of how he played," Rivera said. "He was very physical, used his hands very well and leveraged a couple of times very nicely routing guys out of there. And the way he pass protected as well – it was a very effective day."
2. Renaissance for rookies: The starting offensive linemen were joined by a sixth on 12 occasions, with the Panthers incorporating rookie offensive tackle Taylor Moton into a season-high 18 percent of the offensive stats. Rookie fullback Alex Armah also got a season-high 17 snaps in part because tight end Chris Manhertz had to be placed in the concussion protocol.
The same went for the higher-profile rookies, with McCaffrey and wide receiver Curtis Samuel also getting the highest percentage of action they've seen this season.
"We brought in some really good players – drafted well – and now these guys are getting their opportunities," Rivera said. "To be successful, you've got to be able to have that happen. Fortunately for us we've got some good young men that work hard at what they do. Those four guys have put in the extra time."
Rivera expressed confidence that Armah can do the job if Manhertz isn't back for the Week 10 game against the Dolphins next week on Monday Night Football. Armah's versatility is one reason, as is his commitment to his craft.
"Alex because of the circumstances he had to play, and he was ready to roll," Rivera said. "He usually beats a lot of us to the office."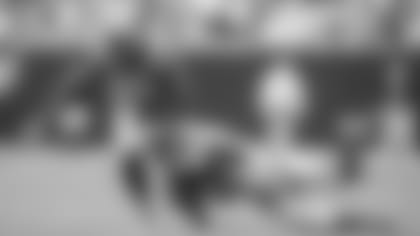 3. Samuel shows steadiness: The stats suggest that Samuel didn't do all that much considering he played 75 percent of the snaps, but Rivera came away pleased after Samuel caught three passes for 23 yards and added a 14-yard run in the first game after Carolina traded starting wide receiver Kelvin Benjamin to Buffalo.
"He plays very strong and fast, and there's a lot of energy to the way he does things," Rivera said. "He's exciting to watch, especially when you get the ball in his hands. He had a nice catch on the sidelines, had a nice run. The young man is an explosive guy. We've got to find ways to get the ball in his hands more – without forcing it."
Offensive coordinator Mike Shula, who also praised Samuel for his physical run blocking, suggested that the ball soon will be coming Samuel's way more often.
"It is going to expand," Shula said, "and we're happy with the way he's progressing."
4. Unsteady, uncharacteristic day for Stewart: While every position group in the offensive huddle was lauded for its contribution to the running game, the bell cow for the unit in recent years had a day he'd like to forget.
Or maybe Jonathan Stewart won't want to forget it, actually.
"That's not going to bother him (going forward)," Shula said. "In fact, it motivates him even more."
Stewart lost two fumbles for the first time in his career, but the coaches haven't lost faith in him after an 11-carry, 21-yard day. After Stewart's second fumble, the coaches called his number on the second play the next time Carolina took possession.
"We believe in Jonathan," Rivera said. "That's why we put him back in and gave him the football again."
5. Secondary shuffle? Daryl Worley started opposite James Bradberry at outside corner, but Kevon Seymour finished. Seymour outsnapped Worley 44-19 a week after Worley dominated snaps 53-14.
Rivera said it isn't any sort of changing of the guard. Rather, after splitting reps for several weeks to see what the team had in the recently acquired Seymour, the Panthers now have confidence in both and knowledge of how to best use them.
"This game seemed to suit Kevon a little bit more than Daryl," Rivera explained. "Kevon is a little bit more of a man coverage type of guy, while Daryl likes to play more with vision and see things. That's the big difference in their style.
"You have confidence when you feel good about who you're putting out there, and when the situation calls for a certain style – whether it's a guy playing physical with his hands or a guy who plays more with his eyes – it's just the flow of the game."
View the top photos from Panthers vs. Falcons by team photographer Melissa Melvin-Rodriguez and second shooters Andrew Dye and Jamey Price.