1. Age is only a number: Safety Mike Adams is 35 years old and entering his 14th season. But to those who doubt him based on his age, Adams issued a passionate response.
"What I have to say to that is stop looking at my bio and watch the film," Adams said after signing a two-year deal with the Panthers. "That's what I have to say to everybody. My body of work and what I've done speaks for itself. If you watch my film, you wouldn't know how old I am, I can guarantee you that."
Some of Adams' most productive seasons have come late in his career. In 2014, he recorded a career-high five interceptions and matched a career best with 11 passes defensed. In 2015, he again recorded five interceptions and posted a career-high three forced fumbles. Adams was a Pro Bowler both years.
2. Eager to compete: Adams is an established player in this league, but he doesn't want anything handed to him. He's ready to compete for a starting job.
"I just want to make it clear that I'm coming here to compete," Adams said. "They are not giving me anything. I don't want that. I want to compete, and that's why I'm here."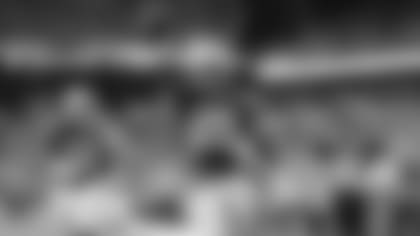 3. A versatile safety: Adams, 5-foot-11 and 205 pounds, can man the strong safety spot, allowing Kurt Coleman to operate at free safety where he's been most effective.
But both safeties have the ability to play both spots, which provides some intriguing flexibility.
"I know (Coleman) is a good player. He can play deep and he can play in the box. I'm interchangeable as well. I can play down and I can play back, just like Coleman," Adams said. "I have been in numerous systems, which helps me learn and pick up defenses quicker. I've just got to get the terminology down."
4. Impressed with Wilks: Before he came to Carolina, Adams heard good things about new defensive coordinator Steve Wilks from his defensive backs coach with the Colts, Greg Williams. Wilks and Williams worked together in San Diego from 2009-2011.
"I'm impressed. My D-backs coach in Indianapolis was with him for a while, so I got the lowdown before," Adams said of Wilks. "I can tell he expects a lot, which is a great thing. He'll hold guys accountable."
5. Notable durability: Since playing eight games as an undrafted rookie with the San Francisco 49ers in 2004, Adams has played in at least 13 games in every season.
A look at the career of safety Mike Adams in photos.