1. What's in a name? Yes, the Panthers already had a Charles Johnson
on their roster before signing the former Vikings wide receiver. But they didn't have one quite this fleet of foot.
"I sure hope so," Carolina's new wide receiver responded when asked if he can run faster than the Panthers' defensive end of the same name. "I know he's super-explosive, but I sure hope a receiver is faster than him."
Speed is a big part of the game for Johnson, who ran a 4.38 in the 40-yard dash at his pro day in 2013 (the elder Johnson ran at 4.86 at the 2007 NFL Scouting Combine). The two won't be mistaken for each other when it comes to foot speed, but the receiver said he has clicked on one of his bios and been greeted by the defensive end's photo.
Johnson joined the Panthers the same day Carolina added a second Kalil to their roster, signing left tackle Matt to pair with center Ryan. The Panthers also have two Thompsons (Shaq and Tyrus), two Youngs (Lou and Darrel) and kind of have two Dicksons (Ed Dickson and Travell Dixon).
The re-signing of Teddy Williams pairs him with Daryl Williams, but that's nothing. At one point in 2011, the Panthers had five Williamses on their roster.
2. Hoping for a speedy recovery: Johnson's speed (and two 1,000-yard seasons at Grand Valley State) prompted the Packers to use a seventh-round draft choice on him in 2013, but only after practice squad stints in Green Bay and Cleveland did he finally made his NFL debut with the Vikings 18 months after being drafted.
He made the most of it, catching 31 balls for 475 yards in 12 games, but he combined for fewer total catches and yards over the last two seasons. Johnson missed four games in 2014 with first a rib injury and then an ankle injury, but even when healthy he missed a lot of snaps because then-rookie Stefon Diggs took off in his absence.
"Two seasons ago I was doing pretty well, but then I broke my ribs. That's when my guy Stefon Diggs started emerging," Johnson said. "He was rolling and the team was winning, and he was in my position so you don't just take him out. You could say I was a victim of circumstances, but now I have a new opportunity."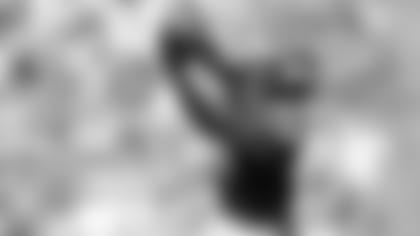 3. Friendly fire: While Johnson left Diggs behind by leaving the Vikings, he was greeted in Carolina by a couple of familiar faces. Johnson's locker in Minnesota was in close proximity to Matt Kalil (and Adrian Peterson), and he got to know cornerback Captain Munnerlyn well. The day after Johnson and Kalil signed with the Panthers, Munnerlyn did the same.
"Captain is my guy. We're real tight," Johnson said. "Actually I came to Charlotte last summer for his wedding. And I was just talking to him upstairs."
That last statement was one of the crazier moments on a crazy day (March 10) – the first full day of free agency. Johnson was the last of five free agents to sign with the Panthers that day. Munnerlyn didn't actually sign until the next day but he came by Bank of America Stadium to discuss the possibility, and Johnson inadvertently let the cat out of the bag that the two sides were talking about reuniting.
4. Family matters: Johnson took a year off of college to spend time with his father, Fred, who had been diagnosed with a rare form of cancer. Eventually, he fulfilled a promise that his dad would see his son get drafted and play in the NFL.
5. For the love of the game: It all adds up to Johnson being the kind of player that should fit nicely in the Panthers' locker room.
"I love this game. I love this game with everything in me, and that's the reason I play," Johnson said. "I'm not playing for glory or for money. I play it because I love it. I give it everything I've got each and every week.
"I think it's a great fit for me. They've got a good thing going here with a good quarterback and a good game plan on offense. I just think it fits me as a player, and I'm excited about being here and look forward to getting out there and showing what I can do."