1. Trubisky's third start: Quarterback Mitch Trubisky will be making just his third NFL career start on Sunday against the Panthers. So far, the former Tar Heel has shown he's more than capable behind center, leading the Bears to an overtime victory against the Ravens in Week 6 with his first game-winning drive.
"The biggest thing is you can see the kind of throws he can make," head coach Ron Rivera said. "We see the deep out from one hash, the opposite hash, to outside the numbers. You see the deep digs coming across the middle. You see the long ball. The ability he has. He makes all the throws."
This weekend brings a new test for Trubisky. The rookie quarterback will face a Carolina team that ranks fourth in total defense and second in sacks.
"They're really smart, they're fast, they run to the ball," Trubisky said of the Panthers defense. "They know how to mix it up. They get after it with the front seven, and they're really solid on the back end. They don't make many mistakes."
2. Riding the hot hand:Ever since joining the Panthers in early September and starting in Daryl Worley's absence against the Patriots, cornerback Kevon Seymour has impressed coaches. Against the Eagles last week, Seymour and Worley played in rotation opposite James Bradberry, but the former finished with 39 snaps – 16 more than Worley.
"Both guys have played well and as we continue to go forward with them, I think the nice thing is it's given Kevon an opportunity to develop and Daryl as well," Rivera said.
Heading into Chicago, it doesn't appear the game plan is going to change.
"He'll ride the hot hand," Rivera said when asked about defensive coordinator Steve Wilks' game plan. "I know he doesn't allow it to dictate his calls. Both guys have equal skill sets so he'll call whatever he wants, it doesn't matter who is in there."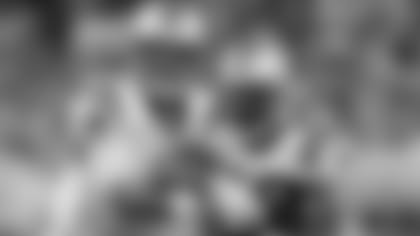 3. Establishing the running game:Quarterback Cam Newton had 71 rushing yards against the Eagles, but the Panthers' running backs combined for one yard on 13 carries. A week after Jonathan Stewart became Carolina's all-time rushing leader, he set a new career low against Philadelphia with minus-4 yards on eight carries.
"We just flat out missed blocks," Rivera said. "We have to get that shored up, we really do." 
The Panthers will receive a boost on the offensive line with All-Pro center Ryan Kalil, who's expected to return this week after missing the last five games. Rivera has preached the importance of the run game in the past as a key ingredient in the winning formula. Carolina will have a chance to establish the run against a Bears defense that ranks 18th in run defense and allows four yards per carry on average.
4. Stopping the running game:The Panthers took a step back defending the run against the Eagles, allowing 101 yards on the ground. They'll have their hands full again this week facing the Bears, who rank third in the NFL in rushing offense. 
"It's more prevalent this week than any other week," linebacker Thomas Davis said. "Chicago is a team that definitely stays committed to the run, regardless of any situation they may be in."
Chicago has run the ball 186 times this season – third most in the league – and against the Ravens last week, 50 of the Bears' 75 plays were run calls. Running back Jordan Howard ranks in the top five in rushing with 495 yards and 4.3 yards per carry while backup Tarik Cohen has totaled 226 yards.
"They can be down 14 points in the fourth quarter and they're still running the ball because it's a big part of what they do," Davis said. "That's who Coach (John) Fox is, particularly having a young quarterback in there. That's going to be his mindset. When you do such a good job running the ball like they do, why would you go away from it?"
5. Weather watch:Both teams are preparing for sloppy Sunday with an 80 percent chance of precipitation on Sunday. Rivera, who knows Chicago and its weather all too well, knows just what to expect.
"We could get rain, we could get snow, we could get sleet," Rivera said. "Anything is possible there."
The wet conditions will make it all the more important that Carolina establishes a running game, while limiting Chicago's rushing offense and forcing Trubisky to air it out.
---