1. It starts with the run:In recent weeks, the Panthers' running game has transformed from stout to inconsistent. Carolina rushed for more than 100 yards in the first three of four games, but in the previous three, have eclipsed 100 only once.
"We have the same criticism of our offense," Buccaneers head coach Dirk Koetter said. "I know (Panthers offensive coordinator) Mike Shula wants to establish the run, I know that for a fact – just like we want to establish the run. That's easier said than done. Running the football in the NFL is not the easiest thing to do because you have to have ways to run it against eight- or nine-man boxes. We all have our different ways to do that, but it still doesn't make it easy."
Running the football has been even more difficult for the Buccaneers, who rank 30th in rush offense (the Panthers rank 21st). Tampa does have a pair of talented backs in Doug Martin and Jacquizz Rodgers.
2. Can Cam rebound? While the Panthers' running game has been inconsistent, so has Cam Newton. The quarterback appeared rusty through the first three games after rehabbing his surgically repaired right shoulder during the preseason. Against the Patriots and Lions in Weeks 4 and 5, Newton looked like is 2015 MVP self – throwing for more than 300 yards and three touchdowns in each game. But in his last two games, he's thrown five interceptions.
Newton's weekly performance is a measuring stick for the Panthers. In each of Carolina's three loses, he's finished with a passer rating below 55. 
"It doesn't matter what he is doing the week prior, or the week before that, or the week before that – he is an MVP and that doesn't go away," Buccaneers defensive tackle Gerald McCoy said. "He is that good and can be that good at any moment, so we have to be prepared for it. He is a confidence guy. He feeds off positive energy, so if the team is rolling, he is going to get it going. We don't want that to happen."
3. Offensive firepower:Quarterback Jameis Winston doesn't lack offensive weapons, and that's a part of the reason the Buccaneers lead the NFL in passing offense.
"We just have a lot of great weapons," Winston said. "I think we have great talent. Everyone in our receiver room, our tight end room and our running back room, we have a lot of talent in every facet of our offense."
Winston spreads the ball efficiently. While wide receiver Mike Evans leads the Buccaneers in receiving with 459 yards, tight end Cameron Brate has caught a touchdown in four of the last five games. With Brate covered up against the Bills, rookie tight end O.J. Howard broke out with two touchdowns and 98 yards in Tampa Bay's loss last Sunday.* *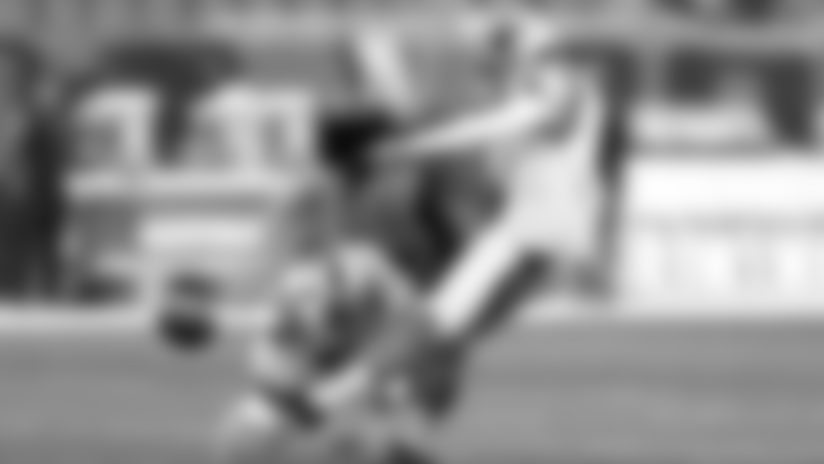 4. Kicking conundrum: The Buccaneers' kicking issues have been well documented over the past few years. Recently, Tampa Bay cut veteran kicker Nick Folk, who missed all three of his field goal attempts in a 19-14 loss to the New England Patriots in Week 5. That opened the kicking job for Patrick Murray, who is 2-for-2 through two games.
Most famously, the Buccaneers spent a second-round pick on kicker Roberto Aguayo in the 2016 draft. His tenure in Tampa Bay was short-lived as he made just 71 percent of his field goals as a rookie. Aguayo is now a Panther after signing to the practice squad this week. 
While Graham Gano is expected to kick this weekend against Tampa Bay, he did surface has been on the injury report for two weeks now with a right knee injury and missed practice Friday with an illness.
5. Black jerseys:The Panthers don't typically wear black jerseys when playing the Buccaneers on the road due to often-scorching temperatures. In fact, in the franchise's history, Carolina has only worn black jerseys twice before in Tampa Bay. The Panthers are 1-1 in those games.
However, this weekend the expected forecast is partly cloudy with a high of 68 degrees. The conditions present an optimal opportunity for Carolina to don their black jerseys for the first time this season. 
---
View the top photos from Panthers vs. Buccaneers by team photographer Melissa Melvin-Rodriguez.