1. Protection will be paramount: Cam Newton was sacked eight times in last week's loss – never a formula for success. Head coach Ron Rivera said that everyone associated with the offense shared in the blame, but members of the offensive line spoke passionately about bouncing back when the Panthers visit the Atlanta Falcons on Sunday.
Before left tackle Michael Oher developed concussion-like symptoms late in the week and was ruled out, he talked about the line correcting errors and having an "attack" mindset. Guard Trai Turner echoed that sentiment.
"It was really tough to see some of the mistakes personally that could have been better," Turner said. "We want a different outcome this time. We want to just go out there, play our game, do what we're good at. We just want to play some ball – good ball at that."
Oher will be missed, but just one NFL team has fewer than the three sacks recorded by the Falcons to date. It's no doubt one of the reasons that Atlanta is one of just two teams to allow 10 touchdowns passes through three games.
It's not coincidence that Carolina scored 10 points when Newton was sacked eight times, 20 points when he was sacked three times (at Denver) and 46 points when he was sacked once (vs. San Francisco).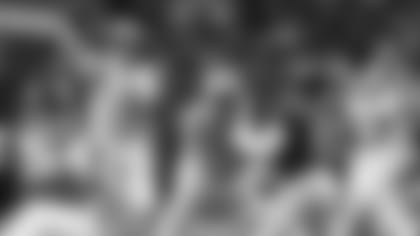 2. Pushing the ball downfield: When Newton has time to throw, it gives his receivers time to complete their routes. When he doesn't, things like what happened against the Vikings happen.
"Not catching a pass, it kind of feels like I skipped a game," Kelvin Benjamin said. "I'm ready to compete."
After catching 13 of his 21 targets for 199 yards and three touchdowns the first two games, Benjamin was targeted just once last week. The Panthers vow to change that against the Falcons, although Pro Bowl cornerback Desmond Trufant will do his best to prevent a bounce-back game.
Trufant's best is pretty good.
"He is one of the elite guys in this league," Rivera said. "I don't think he gets nearly enough credit for how good of a football player he is."
Trufant will be tested if the Panthers' pass protection holds up. Carolina wants to get Benjamin and Devin Funchess (two targets vs. Vikings) involved, and Ted Ginn, Jr. as well. Ginn had three catches for 120 yards and two touchdowns in Carolina's victory over Atlanta last year but just one catch for nine yards in the loss.
3. Handling Julio: Receiver Julio Jones was good in the Falcons' loss to Carolina last year, catching seven balls for 88 yards. He was great in the Falcons' win, catching nine for 178 yards and a touchdown.
The Panthers' secondary featured Pro Bowler Josh Norman in those matchups. This time, Jones draws capable rookie James Bradberry.
"Julio is arguably the top receiver in the league, and as a cornerback you want to face that," Bradberry said. "It's going to be a good test for me."
Bradberry has been taking notes from cornerback Robert McClain, who used to go up against Jones in practice every day. The Carolina secondary could also use some help in a different form – the Panthers recorded five sacks in Jones' lesser game but just two in his big one. This game looks like an opportunity to get the pass rush cranked up.
4. Beyond Julio: The pass rush must be on point because the Falcons offense, which currently leads the league in scoring, isn't just about Jones.
"They have a lot of weapons," cornerback Bene Benwikere said. "They get to the ball their running backs in the passing game but can also run the ball. They have great athletes. Matt Ryan is a good quarterback, and they have great receivers and a great tight end."
Ryan was named NFC Offensive Player of the Month for September. He and Jones didn't connect much in Monday's victory over the Saints, but running backs Devonta Freeman and Tevin Coleman combined for four touchdowns in a 45-32 victory. So, it's not as easy as just shutting down Jones for the Panthers, but that and rattling Ryan is a good starting point.
5. Panthers must minimize miscues: Protecting Newton and getting after Ryan are important aspects of the matchup for the Panthers, but that won't matter if the positive plays don't count.
Carolina's 26 penalties so far are fifth-most in the league. Not surprisingly, the seven teams with 25 or more penalties through Week 3 had a combined record of 7-14.
"That's the crux of the problems we've had with third-and-longs," Rivera said. "The worst thing that we've done is put ourselves in a hole with untimely penalties on first and second down."
Clean, consistent play was a staple for the Panthers last season. They'll aim to get back to that Sunday.
View photos from the Panthers' week of practice leading up to their game against Atlanta.