1. Cam on the run:Since the Panthers' meeting with the Falcons in Week 9, Carolina's rushing offense has turned a corner. In that span, they've totalled 176 rushing yards per game, partly due to an increased number of quarterback options and designed runs for Cam Newton.
"When you play a team that has some option to them, you better have your option rules right," Falcons head coach Dan Quinn said. "That's certainly something that defensively we began (Tuesday) and they are working through them again (Wednesday) in preparation for the game."
The Falcons know all too well the threat Newton possesses in the running game – he scampered for 86 yards in the last meeting.
"You played the team once, so you kind of know their tendencies," Falcons defensive end Takkarist McKinley said. "But it's been a long time since we played them, so they can switch things up a little bit. I'm just watching film. Heavy on film to see if they do this or if they don't do this."
2. Third down test:Despite severely struggling on third down against the Saints last week – 2-of-13 – the Falcons are still the best third down team in the NFL, moving the chains at a league-high 45 percent rate.
On the other hand, Carolina's third down defense has been subpar over the last six weeks. In that time span, Carolina ranks 29th in the NFL, allowing opponents a 45-percent conversion rate.  
"It's not really a concern," defensive coordinator Steve Wilks said. "You see what teams are doing now, they understand we're going to pressure so if you really look at it, they're really getting six- or seven-man protections. We need to do a much better job of creating some different looks inside."
3. Re-examining the receivers:The Panthers' receiving corps been a revolving door, with the latest turn coming after wide receiver Damiere Byrd was placed on injured reserve this week.
Without Byrd, Carolina's receiver's room is now made up of Devin Funchess, Russell Shepard, Brenton Bersin, Kaelin Clay and Mose Frazier. 
"When I think of Carolina and their offense, I think it's an excellent way of featuring players," Quinn said. "You can call them receivers, tight ends, running backs – they just do an excellent job of featuring the guys. To me I think of receiving who you're throwing it to, not just their position."
Running back Christian McCaffrey and tight end Greg Olsen are top options in the passing game. But in the wide receiver room, outside of Funchess, the latter four receivers are largely untested. Shepard, Bersin, Clay and Frazier have combined for only 336 yards on 27 receptions.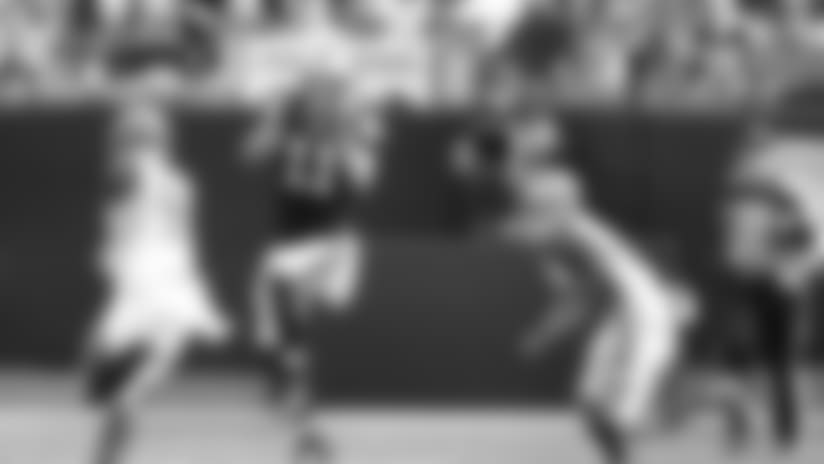 4. Big play potential:As of late, the Panthers defense has fallen susceptible to big plays through the air. Last week, Buccaneers quarterback Jameis Winston connected with four different receivers for five 20-plus yard gains, the majority of which led to points. 
Atlanta boasts one of the premier big-play threats in wide receiver Julio Jones, who tallied three catches for 20-plus yards in the first matchup and has hauled in 22 receptions for at least 20 yards, third-best in the NFL. Against the Panthers, wide receiver Taylor Gabriel also turned a short, routine catch over the middle into a 40-yard gain. Running backs Devonta Freeman and Tevin Coleman also boast big-play potential out of the backfield, and any breakdowns in the defense, particularly the secondary, are likely to be punished by the Falcons.
5. All eyes on the lines:The Falcons' offensive line isn't suffering from any potential Super Bowl hangover. This season, quarterback Matt Ryan has been sacked just 23 times in 507 dropbacks through 15 games. Last season, he was sacked 37 times in 587 dropbacks through 16 games.
"I'll tell you what, I like the Falcons' offensive line. I really do," head coach Ron Rivera said. "I think Alex Mack is a solid football player. Both Andy (Levitre) and Wes (Schweitzer) are two solid guys. It will be a good matchup. I think our guys like competing against (the Falcons)."
Atlanta's offensive line will meet its match Sunday. Led by defensive ends Julius Peppers and Mario Addison, the Panthers' have totaled 49 sacks this season, third best in the NFL.
---
View the top photos from Panthers vs. Falcons by team photographer Melissa Melvin-Rodriguez and second shooters Andrew Dye and Jamey Price.