1. Lions' rushing attack: Six yards is all that separated running back Ameer Abdullah on Sunday from breaking the Lions' 55-game drought without a 100-yard rusher. In the Matthew Stafford era, Detroit has never been known for its stout running game. However, Abdullah and the Lions' rushing attack is trending upward heading into the Week 5 matchup with the Panthers.
In two of the last three weeks, Abdullah has notched a new career high and is averaging 3.9 yards per carry, just a smidge below the 4.0 threshold that head coach Jim Caldwell is aiming for.
"They got two guys they split it up with. It's hard to get one guy 100 yards if they split carries, but they're good in the run game," said linebacker Luke Kuechly said, referencing sidekick Theo Riddick. "Sometimes I think teams get overlooked in the run when they have good quarterbacks like (Stafford) that they can throw short stuff with."
2. Steady Stafford: Stafford isn't flashy – he has yet to throw for 900 yards this season. However, he has led his Lions to a 3-1 start and to the top of the NFC North alongside the Green Bay Packers. Stafford is careful in the pocket. He doesn't take unnecessary risks and is smart when deciding to scramble. He's a highly regarded quarterback, the third consecutive elite passer the Panthers will face this season.
"They got one of the best quarterbacks in the NFL," cornerback Captain Munnerlyn said.
"People sleep on his athleticism. He definitely can run. He's a guy that can move around. I've been in that division so I played him a lot. On third-and-long he ran on us and got the first down. I'm like 'Wow, that's Matthew Stafford. That's not supposed to happen.'"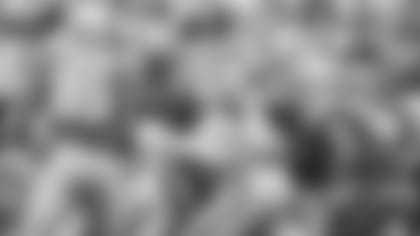 3. Secondary vs. Stafford:Carolina will be without safety Kurt Coleman for a few weeks after he injured his knee against the Patriots. His replacement, Demetrious Cox, is also out after twisting his ankle in New England's new turf. The Panthers dipped into the free agent market this week, signing veteran Jairus Byrd to help patch the secondary. But like his new teammates, injuries have plagued the safety in the past.
"He's been bothered by injuries a little bit in his career," tight end Ed Dickson said of Byrd, a three-time Pro Bowler. "If he's healthy, he's one of the best safeties I've seen."
Head coach Ron Rivera said Byrd, who joined the team Tuesday, and Colin Jones - who joined the team in 2012 - should both see time alongside Mike Adams.
"How we rotate those guys, whether it be by series or by quarter, we'll see where we are and we'll go with the guy that's got it going," Rivera said. 4. Turnovers and takeaways:The Lions boast a plus-nine turnover margin this season, the best in the NFL. Detroit has already totaled 11 takeaways, three shy of their total for all of 2016.
"We've practiced them in years past as well and hadn't gotten nearly as many," Lions coach Jim Caldwell said. "I do think that we've got guys that are closing in on the ball a lot faster, guys are in better position when balls are loose. We've got a lot of guys hustling to the ball, so the law of averages tells us we're going to have a really good chance of getting our hands on it."
Unlike the Lions, Carolina has struggled in that department of late. The Panthers haven't recorded a takeaway since Week 1 - when they had two - while turning it over seven times this season. 
"They come in bunches, but you need to work hard to get them," Kuechly said. "Quarterbacks don't throw it to your chest, and guys don't put the ball on the ground a lot. You got to work for them and practice it and emphasize it during the week. We do all that and try hard. We've had opportunities the last two weeks to either get the ball out or make a pick.
"We're there. We just need to capitalize on it." 5. Field position battle:Sometimes it's more than just the basics when it comes to winning a football game. Rivera stressed to his team this week that it's important to protect the football and get pressure on the opposing quarterback, but there's also some detailed analytics to look at.
The Panthers' average starting field position this season is at their own 29 – tied for seventh best in the NFL. The Lions is from their own 33 – first in the NFL.
"We've got to win the field position battle," Rivera said. "There's a series of things we look at from our analytics guy, and one of those things is the field position battle. We've won it three out of four times and those three we won, we won the football game."
---