1. Don't let Gurley get going: Linebacker Thomas Davis says Rams running back Todd Gurley "has the potential to be one of the best to ever do it," but Gurley hasn't often reached his potential this season.
The Panthers, third in the NFL against the run, want to make sure Gurley doesn't start Sunday.
"When you have a guy as explosive and dynamic as he is, teams are going to be ready for him," linebacker Luke Kuechly said. "They're going to want to make sure he doesn't beat them. That's a sign of respect for what he can do. Anytime he touches the ball, he can score.
"Teams are very aware of his skillset, so they're going to try to make sure he's not going to beat them."
Gurley ranked third in the NFL in rushing as a rookie last season despite playing just 13 games, but it's been tougher sledding so far this season. He's averaging just 3.0 yards per carry and hasn't had a run longer than 16 yards. Last season, the North Carolina native had 11 runs of 20 yards or more, including a league-high five runs of 40-plus.
The Rams, however, will keep trying, so it only seems like a matter of time. Gurley is averaging 19.1 carries a game, third most in the league.
2. The curious case of Keenum: Gurley's stats haven't always lined up with the scoreboard. He had 85 yards on 27 carries in one of the Rams' victories but just 84 yards on 34 carries combined in their other two victories.
On the other hand, quarterback Case Keenum's numbers do align with wins and losses. He's thrown one interception in Los Angeles' three victories but has totaled nine picks in their four losses. And getting takeaways typically is a key to Carolina's success on defense.
"It will be a challenge for us," Kuechly said. "He's a very competitive guy, and he's smart. You look at whether a guy can play, but you also look at whether he likes to compete, and he does."
Will the Panthers get the good Keenum or the bad? In Week 6, he completed a franchise record 19 consecutive passes. In Week 7, before the Rams' bye, he tossed four interceptions.
If Keenum is on, the Rams' receivers pose a threat to the Panthers' young secondary. Among NFL receivers with 20 or more receptions, Brian Quick ranks third with 17.8 yards per catch and Kenny Britt fourth at 16.2 yards per catch. Britt is seventh in the league with 76.4 yards per game, and then there's quick-as-lightning receiver Tavon Austin, who leads the team with 36 catches and is second to Gurley on the team in rushing.
3. Winning in the trenches: Even with intriguing pieces on offense, the Rams rank 30th in the NFL in scoring at 17 points per game. Four of their five starting offensive linemen were drafted in either 2014 or 2015, something the Panthers must take advantage of to hold the Rams' weapons in check.
Carolina's pass rush came alive against Arizona last week with eight sacks after totaling 12 sacks through the first six games.
"That was a reflection of what this unit can be," head coach Ron Rivera said. "It's what we had been looking for. We had played well in certain games but not as well in a couple."
Consistent penetration and pressure by the defensive line from game to game and within individual games is a key to success for this Panthers defense. This looks like a good matchup on paper to keep the momentum going.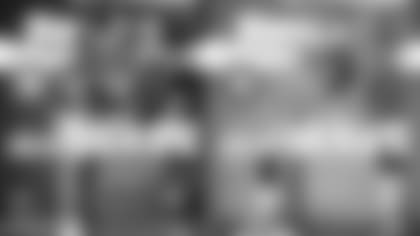 4. Intriguing battle up front: When the Panthers have the ball, controlling the line of scrimmage will be key as well. The Rams have a stacked defensive line that features several standouts, among them defensive tackle Aaron Donald.
Last season, Donald and Kawann Short tied for the NFL lead among defensive tackles with 11 sacks.
"He's a really good player, period," Panthers guard Trai Turner said. "I haven't played him, but from what I see on film he's a pretty explosive player."
Donald will line up against Turner at times. Donald was drafted in the first round in 2014, Turner in the third round. Both were Pro Bowlers last year, and both were featured on regional covers of Sports Illustrated's NFL preview issues, which looked at the "next wave" of game-changers.
"I love a battle. I'm ready to battle," Turner said. "It'll be fun."
Donald and defensive end Robert Quinn – who has 47 sacks the last four-plus seasons – will test Carolina's offensive line.
"I think our offensive line has played exceptionally well," Rivera said. "The unfortunate part is that we've been in some tough situations where the defense knows you're going to throw the ball and they've teed off. But when you get in a situation where you can dictate, they've played very well."
5. Depth a deciding factor? Donald also will line up at times against the Panthers center, which could be five-time Pro Bowler Ryan Kalil coming off a shoulder injury but may well be reserve Gino Gradkowski.
Gradkowski performed well in relief last week, and on the other side of the ball, linebacker A.J. Klein will be needed to step in this week. Strongside linebacker Shaq Thompson is out with a knee injury.
Klein started 16 games over his first three NFL seasons – about half of them as an injury replacement for either Thompson on the outside or Luke Kuechly in the middle – but this will be his first start this season.
"I've been thrown in the ringer multiple times over the years. I'm prepared for it and know how to respond to it," said Klein, who is Carolina's top backup at all three linebacker spots in addition to extensive special teams duty. "You never want to be playing because somebody else is hurt, but that's the nature of the business.
"I got a few more reps in practice because of Shaq's injury. If you're not getting the reps in practice, the muscle memory part can be a little bit tough, but the mental aspect is like every other week because I always prepare as if I'm going to start."
View photos of Carolina's week of practice leading up to their game against Los Angeles.