1. Paramount possessions:The Panthers defense faces a tough task this week in stopping the Saints' second-ranked offense. New Orleans is averaging more than 400 yards and nearly 32 points per game, the most in the NFL. They boast a Hall of Fame quarterback, a tremendous two-pronged rushing attack in running backs Mark Ingram and Alvin Kamara, and have dangerous receiving weapons on the outside.
"It is important for us to create as many opportunities for our offense as we can," linebacker Thomas Davis said. "Whether that's creating turnovers or whether it's making teams go three and out - whatever we can do to get extra possessions for our offense." 
But what makes the Saints' special offense even more dangerous is the amount of time they're on the field. New Orleans ranks sixth in third down percentage (45 percent) and is possessing the ball for nearly 32 minutes, more than most teams including the Panthers. 
"Man it's important every week, but especially this week when you have a high-powered offense like the Saints have," Davis said. "You are facing a Hall of Fame guy like Drew Brees, and when you Alvin (Kamara) playing the way that he's playing and then you have Mark (Ingram) playing the way that he's playing and those receivers on the outside doing what they are doing, it definitely makes for a long day for a defense if you allow a team to go and have the balance that the Saints have been able to have." 
2. Kamara is key: Kamara is taking the league by storm. The rookie leads the NFL in yards per carry at 7.1 (546 yards on 77 carries) and has been just as dangerous as a receiver (548 yards on 54 receptions). If that's not enough, he has scored a team-leading nine touchdowns, one of which came against the Panthers in Week 3. 
"Just his versatility," head coach Ron Rivera said on what makes Kamara so dangerous. "The guy does a lot of good things and does them very well. I think Coach (Sean) Payton knows how he wants to use him and uses him very effectively."
3. Newton's targets:Quarterback Cam Newton didn't have his trusted tight end Greg Olsen as a target in the Panthers' first meeting with the Saints in Week 3. Although Olsen missed practice this week, Rivera admitted he'd be comfortable with playing him Sunday regardless.
"It's one of those things we wanted to back off, and go from there," Rivera said.
Olsen or no Olsen (he is listed as questionable), the offense will receive a boost of speed with the return of wide receiver Damiere Byrd. Byrd, who hasn't played since breaking his arm in Week 4, could contribute Sunday. His addition could be crucial for the Panthers, who are still looking for a true deep threat.
"I think every team as a need for speed," Byrd said. "There's always a spot for somebody to stretch the field. I just go out there play my normal game and see how it all works out."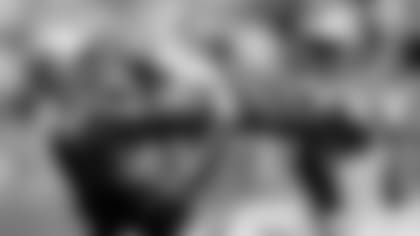 "We loved having Teddy (Ginn) on our team. I hate seeing him play in New Orleans," Davis said. "I hate watching that speed over there with Drew Brees. Ted Ginn and what he's able to do not only from a stretching the field standpoint, but he's able to do with different looks, reverses. There is a lot that Ted Ginn Jr. offers to a football team, and now he's giving that to the Saints."
Carolina already received a taste of what their former player can still do when they squared off in Week 3. Ginn caught two passes for 44 yards and a touchdown. Had Brees not overthrown the speedster in the second quarter, Ginn would've had an additional 50 yards and a second touchdown.
5. Saints' injury concerns:The Saints are fighting through a few injury issues of their own. Both starting cornerbacks Marshon Lattimore (ankle) and Ken Crawley (abdominal) didn't play in last Sunday's loss to the Los Angeles Rams. While Crawley revealed he will play this week through injury, Lattimore's status for Sunday's NFC South showdown is still in question.
"I'm not feeling better," Crawley said. "It still kind of bothers me a little bit, but I'm just working. It looks like I'm going to go this week, but it's a work in progress.
"I just have to deal with it. This is an important game, so I want to be a part of the defense in this important game. So, I just got to play through it."
---
View the top photos from Panthers vs. Saints by team photographer Melissa Melvin-Rodriguez.