1. Dealing with Danger-Russ: Quarterback Russell Wilson hasn't always had big days statistically in his six games against the Panthers, but he's made a lot of big plays that helped determine the outcome in the Seahawks' favor.
The Panthers clamped down on Wilson's penchant for magic moments while sweeping both Seattle games last year. But courtesy of his four victories over Carolina prior to last season, the Panthers know all about Wilson's uncanny knack for making the right play at the right time.
"The guy makes plays. We know that and respect that," defensive tackle Kawann Short said. "The whole job is to get that guy on the ground. He's deadly in the pocket and deadly out of the pocket. We've got to close the pocket on him and make him uncomfortable."
Wilson appeared slowed by an ankle injury earlier this season but appeared to hit his stride recently with 902 passing yards, six touchdowns and no interceptions in victories over Buffalo, New England and Philadelphia. Last week at Tampa Bay though he retreated along with the rest of the offense, throwing for just 151 yards with two interceptions. Back home, he'll hope to get back in his comfort zone.
"We've got to do everything we can to get that guy off his spot," Short said. "It's going to take all four of us on the defensive line consistently doing our job."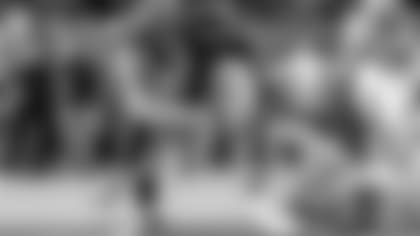 2. Vetting Wilson's weapons: Tight end Jimmy Graham was always a thorn in Carolina's side when he played for the Saints (the Panthers weren't alone in that regard), and that's continued in Seattle despite his comparatively inconsistent play.
Graham was hurt for last year's playoff game but had eight catches for 140 yards in the regular season meeting. The Panthers are aware but aren't all-in.
"We're not going to go out and just really focus on stopping Jimmy Graham because they have so many weapons on offense," linebacker Thomas Davis said. "If you look at what Russell has done all season, he's utilized every weapon he has. We've just got to key in on them as a group rather than one individual."
In Doug Baldwin, the Seahawks have one of the most underrated wide receivers in the game, though he has just one touchdown in six career games against Carolina. That, however, speaks to what Davis said, as several under-the-radar targets have hurt the Panthers in previous meetings – among them wide receiver Jermaine Kearse and tight end Luke Willson.
3. Surviving Seattle's defense: If a Panthers defense that's been up to the task the majority of the time since the Week 7 bye can hold up its end of the bargain, the offense behind a "piecemeal" line as head coach Ron Rivera called it will try to make it pay off.
Seattle's defense is on pace to top the league in scoring defense for the fifth consecutive season. The Seahawks pride themselves on applying pressure at all levels of their defense, and the first place to look will be up front. While the Panthers have just one offensive lineman in the spot he started the season, Seattle defensive end Cliff Avril is tied for second in the NFL with 10 sacks, and bookend Frank Clark isn't far behind at 7.5.
"It's valuable real estate as far as protecting the ball, field position and just doing the little things right," quarterback Cam Newton said. "Execution will be key."
4. Running in place: With the Panthers and Seahawks tied for third in the NFL with 31 sacks apiece, the way to neutralize the pass rush could be by focusing on rushing yards. Neither team is rolling in the run game of late, so one team getting that going could spell the difference.
The Seahawks have been stuck in neutral all season, ranking 27th with 88.9 rushing yards per game the year after Marshawn Lynch's retirement and with his presumed replacement Thomas Rawls having only played the first two games and the last two games. The Panthers rank 13th with 109.5 yards per game but just ended a stretch of three consecutive games with fewer than 100 yards on the ground. Jonathan Stewart rushed for 60-plus yards in three of his first four games but has done so just once in his last four, but the recent one above the threshold came just last week with 96 yards at Oakland.
Could one of the quarterbacks get the running game going? Wilson had totaled just 79 rushing yards all season before gaining 80 against Tampa Bay. Newton has just 13 rushing yards on eight attempts over his last two games but is tied for the league lead among quarterbacks with five rushing touchdowns.
5. Tough place to play: The Panthers piped in noise during practices at San Jose State to try to prepare for the notorious noise at CenturyLink Field
"It's always a tough battle going up there," Davis said. "They're a much different team at home than they are on the road."
While the Seahawks are a pretty impressive 21-16-1 in regular season road games since Wilson's rookie year of 2012, they're 32-5 at home over the same stretch, matching the Broncos for the NFL's best record.
Of course, one of those losses came against the Panthers last season.
"We've been there," Short said. "We've done it, and we know what it takes."
View photos of players as they travel to Seattle.