1. Running down Hyde: The San Francisco 49ers' best two performances over the course of a challenging calendar year have coincided with running back Carlos Hyde's best two performances.
"Carlos Hyde has done a terrific job for them," Panthers head coach Ron Rivera said. "He's an explosive guy who can make some things happen."
Hyde rushed for 88 yards and two touchdowns in San Francisco's 28-0 victory over the Los Angeles Rams on Monday. In last year's season opener, he piled up 168 yards and two touchdowns in a 20-3 victory over the Vikings.
"Hyde is a big, physical guy, but laterally he's also dynamic," linebacker Luke Kuechly said. "If you can't stop the run, it opens up problems on defense."
The Panthers had some uncharacteristic problems against the run in their season opener, which might actually be bad news for the 49ers because the Panthers rarely allow such things to linger. Also, Hyde doesn't have a history of successfully following up on his season debuts, with the third-year back scoring five touchdowns in Week 1 games but four touchdowns in his other 19 career games.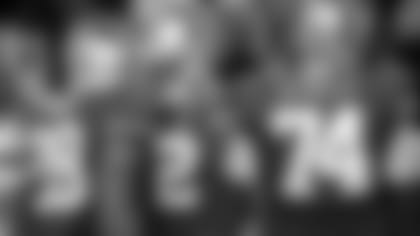 2. Gabbing about Gabbert: The last time the Panthers faced quarterback Blaine Gabbert, he struggled through his first career start early in the 2011 season along with his Jaguars teammates against Cam Newton in his third career start.
The struggles continued and eventually Gabbert faded away and became a backup, but he's found new life in the last year.
"Gabbert has done a really good job of running that offense. Guys are in tune with him," linebacker Thomas Davis said. "As a defense, we've got to be prepared for everything."
Gabbert took over as 49ers starter midway through last season – his first notable action since early in 2013 – and played well enough under the team's previous regime to earn the first look under new head coach Chip Kelly. He showed good command of the offense in the opener.
Kelly's offense, like the one he previously ran in Philadelphia, operates in the hurry-up most of the time. Both Davis and Kuechly said the Panthers defense must be on the same page.
"The biggest thing with these guys is that they move so fast and they hope you don't get everything communicated," Kuechly said. "We've got to do a good job of making sure that one guy on every level of the defense knows what's going on so they can communicate it to everybody. The good thing is, we've got good guys at all levels of our defense."
Gabbert was 5-22 as a starter in Jacksonville. He's looking to improve to 5-5 in San Francisco.
3. Dealing with the defense: The Panthers struggled at times in the season opener against the Broncos' perpetually shifting 3-4 defense. In the 49ers, Carolina faces a similar defense coming off a shutout.
"They're a fast, young group. I think they're a group that's trying to find their identity, and they did a good job starting off the other night against the Rams," center Ryan Kalil said. "It's a physical group. I think they do some similar things to what Denver does, so we have to really, really do a good job up front at the line of scrimmage, both in run and pass."
Linebackers NaVorro Bowman on the inside and Ahmad Brooks on the outside key the defense.
4. All that being said: The 49ers understandably are riding high after their season opener, but their challenge is to follow up on it playing across the country on five days rest. Last year's 20-3 victory to open the season over a Vikings team that eventually qualified for the playoffs was followed by losses to playoff-bound teams Pittsburgh and Arizona by a combined score of 90-25.
The 49ers were an impressive 8-3 in 1 p.m. Eastern starts from 2010-14, but last season they were 0-4 in such games and were 5-11 overall. The Panthers, by the way, have won 13 consecutive home games (including three postseason wins), the longest current streak in the NFL. Even with the teams' results in Week 1, the Panthers are listed as nearly two-touchdown favorites Sunday.
5. Kicking back: If the game is decided by field goals rather than touchdowns, both teams have proven kickers. Phil Dawson, in his 18th season, was named 49ers team MVP in 2015, and Graham Gano set a franchise record for scoring last season. Last week, however, Gano missed out on three big points, misfiring on a 50-yard field goal in the final seconds of a 21-20 loss.
Gano had missed just one potential game-winner in his first three-and-a-half seasons with the Panthers. One of his biggest kicks came three years at San Francisco in a heavyweight fight between two of the NFC's top teams, a 53-yarder that spelled the difference in a 10-9 triumph.
"He's won some big games for us," Rivera said. "I know he'll get another opportunity and will do his job. I'm confident in him."
View photos from the Panthers' week of practice leading up to their game against San Francisco.