1. Anderson's favorite targets: When quarterback Derek Anderson started two games against the Buccaneers in 2014, he and tight end Greg Olsen had a clear connection.
Olsen caught eight passes for 83 yards and a touchdown in that season-opening win. In the second meeting, Olsen posted 10 catches for 110 yards as Carolina prevailed again.
"18 balls in two games – I'll take that," Olsen said with a smile. "That sticks out."
As the past few seasons have shown, Olsen and Cam Newton have a tremendous connection as well. But Olsen and Anderson always seem to be on the same page when the veteran backup enters the game.
"We see things the same way," Olsen said. "We have good communication, and we've had some success in the limited times that we've played together."
With Anderson under center, most expect a big game from the Pro Bowl tight end. But don't forget about wide receiver Kelvin Benjamin.
Back in 2014, Anderson and Benjamin combined for 196 yards and a touchdown in the two games against Tampa Bay.
"We all know DA can play in this league," Benjamin said.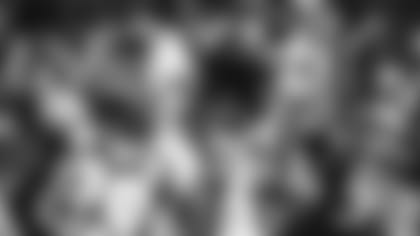 2. Different approach from the pocket: When talking about the differences between Anderson and the reigning MVP Newton, Benjamin mentioned that Anderson tends to get the ball out of his hand quickly, like we saw when he entered the game against Atlanta. Newton, on the other hand, uses his athletic ability to extend plays and take shots downfield.
"DA's going to get it out quicker than Cam, and we're going to have to be fast on our routes," Benjamin explained. "That's what we've got to do. We've got to run our routes and be to the spot."
Head coach Ron Rivera echoed Benjamin's assessment.
"(Derek) takes what he can get when he plays. That's one thing that he does well," Rivera said. "Unlike Cam, who is going to stand tall in there and maybe skip an opportunity and work something downfield, Derek is going to be quick to pull the trigger and go forward. That may be one of the bigger things they contrast in."
3. Who covers Evans? James Bradberry is out with a toe injury and Bene Benwikere is no longer on the team, so it will be interesting to see how the Panthers choose to cover Mike Evans, far and away Tampa Bay's most targeted receiver who has compiled 360 yards and three touchdowns.
Rivera said rookie cornerback Daryl Worley will make his first career start and Robert McClain will start on the other side. Teddy Williams and newly-promoted rookie Zack Sanchez will be part of the rotation.
4. Who can establish the run? After their historic streak of 100 yards rushing was broken at 30 games, the Panthers are determined to get the running game back on track against the Buccaneers.
"It's something we take pride in," guard Trai Turner said. "It's time to start a new streak."
Carolina will be without Jonathan Stewart (hamstring) for the third consecutive game, and Tampa Bay has injury issues of its own at the running back position. The Bucs, who rank 25th in rushing, have Doug Martin and Charles Sims listed doubtful, meaning Jacquizz Rodgers is next in line.
"I think this game will be won at the line of scrimmage," Rivera said.
5. Tracking turnovers: The Panthers, who ranked first in turnover differential at plus-20 last year, haven't protected the ball nearly as well through the first four games of 2016.
Carolina is minus-three in that category, which ranks 25th. The Buccaneers, however, have had more struggles in that department. Tampa Bay is minus-nine, which ranks 31st.
"It doesn't take rocket science to figure out what's hurting our team right now," Buccaneers head coach Dirk Koetter said. "We're not taking the ball away, OK that's one thing, but then when your offense is turning it over, we're just not giving ourselves a chance."
The turnover battle could very well be the difference in the game on Monday night.