1. Ford fuels Chiefs' pass rush:Kansas City edge rusher Dee Ford has spearheaded the Chiefs' pass rush with nine sacks, 5.5 of which have come in the last two weeks. The next closest Chief is five-time Pro Bowler Tamba Hali, who ranks second on the team with 1.5 sacks.
Ford is extremely quick out of his stance, and Cam Newton's former Auburn teammate has developed the strength required to be a force at this level.
"Very quick off the edge," left tackle Mike Remmers said. "And he plays big. He's a physical player with a lot of power to him."
Success on early downs will be critical for Carolina to avoid third-and-longs, aka prime pass-rush opportunities for Ford and the Chiefs.
2. Can Carolina control the game with the run? The Panthers have long been committed to running the football, and on paper, this is a matchup that works in their favor to establish a consistent ground game.
The Chiefs are allowing 4.8 yards per rushing attempt, which ranks 30th in the league. The Panthers are ninth in the NFL with 115.8 rushing yards per game.
It was tough sledding for running back Jonathan Stewart against the formidable Rams front last week, as he ran 15 times for just 42 yards. Quarterback Cam Newton carried seven times for just 16 yards.
Carolina will no doubt look to get Stewart rolling early and often Sunday, and we'll see if the Panthers use Newton on more designed runs to keep those edge rushers off balance.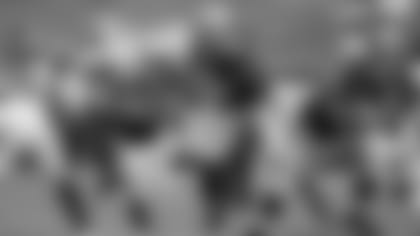 3. Eyes on Kelce: Like the Panthers and Greg Olsen, the Chiefs' leading receiver is their Pro Bowl tight end.
Travis Kelce has recorded 39 catches for 435 yards and three touchdowns, and he's become quarterback Alex Smith's go-to target.
"He's big, he's athletic and he can run," linebacker Luke Kuechly said. "When you have a guy like that, he's a matchup advantage for those guys. He's a good player, and Alex does a good job getting him the ball. We have to make sure that we know what he likes to run and where he lines up."
Kelce has also been a big play threat for Kansas City. He has five catches over 20 yards on the year – more than any wide receiver on the team.
"I put Kelce into that wide receiver corps," safety Kurt Coleman said. "He's effective like a wide receiver."
4. Center of attention: With centers Ryan Kalil and Gino Gradkowski both questionable, the Panthers could be counting on Chris Scott to fill in.
The fifth-year veteran has the ability to play any position on the line, but he has not yet played center in a regular season game.
With all that goes into playing center – clean snaps, identifying defenders and communicating signals – this is definitely something to watch.
5. Will Panthers attack Peters? Chiefs second-year cornerback Marcus Peters, who led the NFL with eight interceptions as a rookie, leads the NFL with five interceptions this season.
Clearly, Peters has terrific instincts and a knack for getting his hands on the ball, but his aggressiveness has worked against him in the past. He typically stays on the left side of the defense, and it will be interesting to see if Newton steers clear or goes right at him.
View photos of Carolina's week of practice leading up to their game against Kansas City.