1. CAN CAM KEEP IT ROLLING? In two consecutive games, quarterback Cam Newton has thrown for 300-plus yards and three touchdowns – something he's never done before in his NFL career. Newton only had three such games prior to the victory over New England two weeks ago.
Newton calmed concerns over his surgically repaired shoulder by lighting up the Patriots and Lions. Is this the "new normal" for the former MVP quarterback? Thursday night's game against a stingy Philadelphia defense is a chance to prove that to be the case.
As great as Newton has been, it would be nice if Carolina could give his arm some relief with a more consistent ground game. But that won't be easy against an Eagles defense that is the NFL's second best against the run, especially if Philadelphia stacks the box like the Lions did last Sunday.
"Anytime somebody stacks the box like that, it's tough to run the ball against them," running back Christian McCaffrey said. "But when that happens, Cam throws for (355 yards) and we make plays in the passing game. It leaves a lot of holes. If teams (load up) to stop the run and our passing game starts clicking, it's tough to beat."
2. WENTZ AND HIS WEAPONS OUT WIDE: Second-year quarterback Carson Wentz is off to a terrific start. He's been locked in on third downs, and like Newton, he's spreading the ball around to a variety of playmakers.
The wide receivers in particular will present problems for Carolina to contend with, especially with safety and team captain Kurt Coleman (knee) out for the second straight week.
"They have a good group," cornerback James Bradberry said. "A good leader and veteran in Torrey Smith. Nelson Agholor has been coming on. Alshon Jeffrey is always a deep threat because he is a big receiver with a huge catch radius."
Speaking of big receivers, Kelvin Benjamin and Devin Funchess have been on a roll lately for the Panthers. That needs to continue against the Eagles' 29th-ranked pass defense.
3. DON'T FORGET THE TIGHT ENDS:The Lions forgot about Ed Dickson last week, and he torched Detroit to the tune of 175 yards on five catches. With that on tape, defenses now they need to pay attention to Greg Olsen's replacement.
On the flip side, the Panthers need no reminder about Zach Ertz, who leads all NFL tight ends with 387 receiving yards on 33 catches.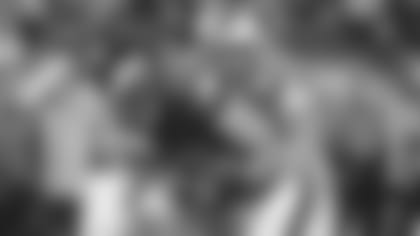 "For a long time Ertz has been a really good player. He's a matchup nightmare for a lot of linebackers and safeties," linebacker Thomas Davis said. "Carson is doing a really good job of finding him when he's open, which has been a lot. We know as a linebacker corps we have our work cut out for us covering that guy."
Added linebacker Luke Kuechly: "He's crafty. He understands coverages and how to stem guys to get open. He catches the ball really well. He gets better every year. You better know where he is, because if not, he's going to cut you up."
4. FLETCHER COX RETURNS? Philadelphia's Pro Bowl defensive tackle has missed the last two games with a calf injury, and head coach Doug Pederson called him a "game time" decision for Thursday.
If he plays, the Panthers know they'll be up against one of the league's most disruptive interior linemen.
"Very much so," head coach Ron Rivera said. "Guys that are dynamic players get vertical and get into creases and are disruptive. This is a guy that attacks the ball. He can make an impact. I don't want to say take over a game – but he really impacts it."
5. TURNING UP THE HEAT: The Panthers' pass rush has been tremendous through the first five weeks of the season. Last week, they got to Lions quarterback Matthew Stafford six times. They'd like to force third-and-longs and replicate that against Wentz, who won't have starting right tackle Lane Johnson (concussion) to help protect him. That's something Carolina will likely look to exploit.
---
View the top photos by team photographer Melissa Melvin-Rodriguez from Carolina's game against Philadelphia.