1. Another shot at Julio: When these teams first met in Week 4, rookie cornerback James Bradberry suffered a turf toe injury in the first quarter and was forced to watch as Falcons star wideout Julio Jones exploded for 300 yards.
"I remember Julio had 300," Bradberry said. "That was the one thing that stays in my mind. Hopefully we can stop that from happening and we limit his catches and yards.
"I just know we'll be going down as the secondary that let Julio and Matt Ryan's offense do that to us. We want to set the record straight on that and hopefully come out and have a better game."
And Bradberry, now healthy and flourishing late in his rookie year, wants to be the one tasked with covering Jones, who is set to return after missing the last two games with a toe injury of his own.
"I want to compete against the best," Bradberry said, "and he's one of the best receivers in the league. Hopefully I get that chance."
2. Panthers' pass rush: The first step in disrupting the Falcons' fearsome passing game is a strong pass rush. Allow quarterback Matt Ryan time to get comfortable and survey the field, and it'll be a long day for the defense.
"He's got weapons. Ryan is one of the most respected quarterbacks in this league," defensive end Kony Ealy said. "One mistake, and it could be going for a touchdown. We've got to be on."
Defensive end Charles Johnson's return from a two-game absence should help the cause for a Carolina defense that is tied for the league lead with 40 sacks and will need to add to that total Saturday.
"I didn't doubt that he'd be ready," head coach Ron Rivera said. "He loves playing against Atlanta – his hometown team. He just loves the challenge."
3. Keeping Beasley quiet: Right tackle Daryl Williams returned to practice this week and is on track to play after a three-game absence – just in time to face the NFL leader in sacks.
Atlanta's second-year edge rusher Vic Beasley has been a terror for offenses all season, recording 14.5 sacks and six forced fumbles. Beasley's strength is his quickness and athleticism – traits that can give offensive linemen fits in one-on-one situations.
"He's done some nice things," Rivera said. "He's getting a good feel for it. I know in their style of defense, Coach Quinn is looking for that type of player."
Williams' return likely means Trai Turner shifts back to his usual spot at right guard. The offensive line had finally enjoyed some continuity over the last couple weeks, so we'll see how the unit responds.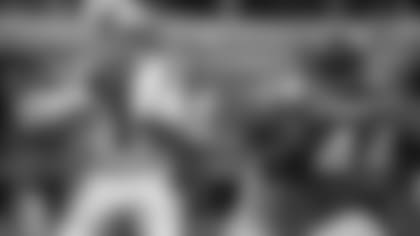 4. Olsen's pursuit: Eight yards. That's all that separates Greg Olsen from NFL history. The Pro Bowl tight end with 992 receiving yards is close to becoming the first tight end in NFL history to post three consecutive 1,000-yard seasons.
The question is not if but when.
"I've tried to build my career by doing things consistently every day, year after year," Olsen said back in training camp. "(Three straight 1,000-yard seasons) would be a great testament, because a lot of things go into having three years like that."
5. Can Stewart keep rolling? Running back Jonathan Stewart is coming off his best game of the season – a 132-yard bulldozing performance against Washington on Monday Night Football.
Carolina is hoping he can pick up right where he left off against the Falcons. The Panthers didn't have Stewart in the first meeting, and they rushed for just 49 yards in the loss.
As Rivera says, a productive running game is often the key ingredient to a Panthers victory.
View photos of the Panthers as they prepare for their game against Atlanta.