1. Battling Brees: The Saints have a chance every single week because they have Drew Brees, one of the most prolific passers in NFL history, under center.
Brees torched the Panthers for 465 yards and four touchdowns in the teams' Week 6 meeting and needed every one of those yards in a 41-38 victory. He's capable of a repeat performance, but the Panthers defense has reason to believe it won't allow an encore.
"We did some good things the second half of that game, so we'll see. I really do think we've evolved a little bit as a defense," head coach Ron Rivera said. "One of the keys is that we have a young secondary that's in place now, that's been practicing together for three weeks now. It's exciting to have that group of young guys out there, plus the defensive line has stepped up and done some really nice things. Hopefully we can continue that trend."
In that first meeting, the Panthers started rookie cornerbacks Daryl Worley and Zack Sanchez with usual starters James Bradberry and Robert McClain out with injuries. Worley exited the game with concussion-like symptoms, leaving things to Sanchez – fresh off the practice squad at that point – and special teams specialist Teddy Williams.
In the rematch, the Panthers will have a healthy Bradberry and Worley on the outside with veteran Leonard Johnson – who was on the non-football injury list back in Week 6 – in the nickel spot. McClain stands at the ready to contribute at both spots.
"It's been good, being able to practice together and get in a rhythm with each other as far as understanding how each of us plays," Worley said. "We feel we're in a better place mentally, physically and confidence-wise."
2. Battling back: The Saints, too, have reason to feel like they've improved defensively since Cam Newton threw for 322 yards against them. After yielding 34 or more points in four of their first five games, New Orleans has held its last four opponents in the twenties.
They've been buoyed by the return of one key cog on each of the defense's three levels since the Panthers game. Cornerback Delvin Breaux returned to play in the last two games since breaking his leg in the season opener (though he's questionable for Thursday), and linebacker Dannel Ellerbe's two games played so far this season have come over the last three games.
The most intriguing addition since the teams' first meeting is Sheldon Rankins, a rookie defensive tackle taken at No. 12 overall in the draft. Rankins was enjoying a strong preseason before breaking his leg, but he's returned for the last two games and recorded his first NFL sack last week.
The Panthers' also didn't have their first-round defensive tackle in Vernon Butler (No. 30 overall) in Week 6, but he returned last week from a five-game absence forced by a high ankle sprain and shared in a sack.
3. Kicking it up a notch: If the defenses do play better this time around, the importance of the kicking game could be magnified. It was pretty important the first time around, too, when Saints rookie Will Lutz came up short on a 53-yard field goal in the second quarter but came back to drill a 52-yarder as time expired for the victory. Lutz was named NFC Special Teams Player of the Week then and again two weeks later when he booted three 50-plus-yard kicks against Seattle.
Panthers kicker Graham Gano has missed just one of eight field goals over the last month, but his new holder must prove he can hold up. Punter Andy Lee has been a valuable piece for the Panthers this season but went on injured reserve this week. Carolina signed Michael Palardy, who spent part of the offseason with the Panthers but has never kicked in a regular season NFL game.
Palardy wore his game pants in practice this week to break them in, and now the Panthers have to hope he proves to be as good a fit as they think he can be.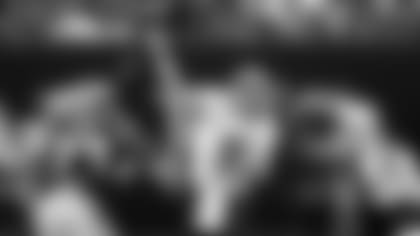 4. Start better, finish better: The Panthers got stronger and stronger as the first New Orleans game went along, but their dominant second half wasn't quite enough to overcome the Saints' 21-0 start. That loss was the third consecutive one in which Carolina came out of sluggish, creating a point of emphasis for the bye week that has resulted in solid starts to each of the last three games. Getting ahead early has helped set up the defense to more effectively get after the opposing quarterback, which is always a key against Brees if you want to try to win the game any other way than just outscoring the Saints shootout-style.
On the other hand, the strong finish in the first Saints matchup has been the exception rather than the rule. Carolina is coming off a 20-17 loss to Kansas City in which the Panthers led 17-3 heading to the fourth quarter. The Panthers' most productive quarter in terms of points has been the fourth with 68, but that pales compared to the 100 points opponents have amassed. The Panthers have outscored their opponents in the first and second quarters and are virtually even in the third, but the opposition has scored 44.2 percent of its points in the fourth quarter.
And Brees, of course, is as capable as any quarterback of engineering a fourth-quarter rally.
5. Protect this house: Brees has historically been known to be a lot more effective at home than on the road, but this season he's almost as good away from home, and his team actually has a better road record (2-2) than home record (2-3).
The Panthers have won three of their last four home games against the Saints – the exception being Thursday Night Football in 2014 – but are just 2-3 at home this season. Last year, Carolina was 8-0 at home.
"We understand that any night game at Bank of America Stadium, we owe our fans an unbelievable product," Newton said. "We've kind of been failing at that, kind of been losing our edge.
"But the roaring of the crowd makes me try to give everything I have and more. That's rejuvenation in itself, and we will be ready to play."
View photos of the Panthers' week of practice leading up to their Thursday Night game against the Saints.