1. Christian McCaffrey: The Panthers' versatile first-round draft pick has been the talk of training camp, from fans fixated on his every juke to teammates raving about what he's shown so far.
What he hasn't had the chance to show is what he'll do when it's live action and the opposing defense gets after him all the way through the whistle. Signs point to him being dynamic when it really matters, and while the Texans game (Wednesday, 7:30 p.m., NFL Network/Panthers TV) technically doesn't count, preseason games clearly count as a step up. Let's see if McCaffrey steps up.
2. Running down the rookies: It's similarly the debut for all of the Panthers' rookies, with many of them not enjoying anywhere near the job security that McCaffrey can claim.
Wide receiver Curtis Samuel and cornerback Corn Elder will be out of action with injuries that have kept them out most of training camp, but three other draft picks should see the field. Offensive tackle Taylor Moton has enjoyed a good start to preseason practices and appears headed toward a key reserve role. Daeshon Hall is trying to establish himself in an already deep rotation at defensive end, but any rotating of kickers will be strictly a preseason phenomenon. Realistically there's only room for either veteran Graham Gano or rookie Harrison Butker on the 53-man roster, and the battle could begin in earnest Wednesday if both get the chance to kick.
3. Does practice make perfect? Head coach Ron Rivera has been mostly pleased with the pace of play offensively, but time will tell if the timing is as crisp in live action.
"The offensive line can't really come off the line and knock people around 100 miles per hour. The defensive line doesn't get to the quarterback," Rivera said about the limitations of practice reps. "You don't get a real sense or feel, so that's what is so important about preseason games. Now it gets ratcheted up one more notch, and then you really do see where you are."
The Panthers' defense has been impressed by how many different ways and at what speed the offense has performed in practice, and that's been by and large without Cam Newton under center. That will be the case Wednesday as well, so Derek Anderson will be first up at quarterback, and the veteran has displayed a good handle on things during camp.
4. Primary backups in secondary: The starting four in the defensive backfield is pretty well set, with James Bradberry and Daryl Worley at cornerback and Kurt Coleman and Mike Adams at safety. Same goes for the nickel corner responsibility, headed up by Captain Munnerlyn.
But what about behind them?
"We want to see who is going to separate themselves and show us that they belong here," Rivera said.
With Elder out of action, undrafted rookie Cole Luke has made a mark at nickel. That's important among other things because Munnerlyn could figure into the depth equation on the outside, where returners Zack Sanchez and Teddy Williams are working to earn roles. At safety, where the Panthers waived Dean Marlowe on the eve of the preseason opener, Colin Jones is an experienced reserve while Charlotte native L.J. McCray has come on of late.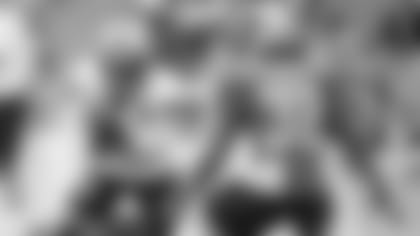 5. Who will catch on? Wide receivers typically get more chances than any other position to make eye-catching plays during training camp practices, and all 12 receivers currently on the roster have had moments in the sun. But Wednesday when the sun goes down and the bright lights come on, that's when such moments will be magnified.
As always, the race for roster spots at receiver is both fierce and fun to watch. It's hard to imagine Samuel, Kelvin Benjamin, Devin Funchess or special teams stalwart Russell Shepard not making the roster, so there's room for MAYBE two more. A dominant performance in preseason games could make all the difference for someone, or more subtly a crucial and consistent contribution on special teams could perhaps do the same.
---
View top photos from Panthers vs. Texans by team photographer Melissa Melvin-Rodriguez.