SPARTANBURG, S.C. – Greg Olsen is the epitome of a family man, but the Pro Bowl tight end will be all about his football family the next three weeks, forming a strong bond with his teammates that will be forged by the blazing heat of another South Carolina summer.
"For guys with families, it's tough leaving your kids and saying, 'Hey, I'll see you in a few weeks,' or, 'Hey, I'll see you for an hour when you come see practice in a couple of days,'" Olsen said. "But professionally, it's really beneficial."
The year before Olsen began his NFL career, in 2006, 19 of the NFL's 32 teams traveled away from their home facilities to training camp. This year, 19 teams stayed home, but Olsen and his teammates made the 75-mile drive to Wofford College on Wednesday for what will be the franchise's 22nd camp on the campus.
Olsen said he has mixed emotions about the annual journey but has no doubts about the benefits.
"We get a lot out of it," he said. "Everything is right here. You have nothing else to do. As tough as it is to not be around the family, that's taken out of the equation, so there's none of those pressures, no one pulling on your shirt to do anything else other than to prepare yourself.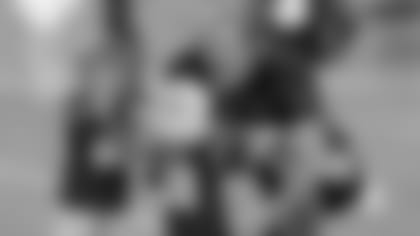 "The training room is right here, and they feed us three times a day like kings. Everything is right here – no commute, no traffic. We're here just to play football and prepare ourselves. For three weeks, we get a lot accomplished."
Spartanburg is notorious for its torrid temperatures this time of year - Olsen said the players called it "the hottest place on the planet" – but the reality is that things would be similarly sultry if the Panthers stayed home. When the first practice of training camp kicks off Thursday at 6:30 p.m., it's actually forecast to be one degree warmer (93 degrees) in Charlotte, but there's just something about training camp that makes it feel that much hotter.
Come the regular season though, that's not necessarily a bad thing.
"This heat is for football players only," linebacker Shaq Thompson said upon arrival at his second training camp. "But we've got to overcome that.
"This is the grind – these are the grinding weeks."
Fullback Mike Tolbert knows all about the grind. A Georgia native who played college football in South Carolina, Tolbert is attending his fifth training camp with the Panthers.
"The temperature is something we can't control," Tolbert said. "We're here to work.
"We know what we're capable of, as the proof was in the pudding last year. We know that we have something special here, and we need to keep it going."
Olsen believes each team truly begins to take shape at training camp, and last year a strong camp set the stage for an even stronger season – one that saw the Panthers go 15-1 in the regular season and advance to Super Bowl 50.
The nucleus of that team is back, but the core of this new team will be cast in the sweltering heat of Spartanburg, miles away both the distractions and comforts of home.
"I kind of like the idea of getting everybody together and getting away for a couple of weeks to kind of kick off the year the right way," Olsen said. "Like we say every year – I've probably said it the last four, five years – everything starts now. This is the next step.
"We're not going to win the Super Bowl today, but we're going to do all the right things to lead up to the first preseason game, which leads up to the first regular season game and so on."
View photos of the players as they report to training camp in Spartanburg, S.C.