CHARLOTTE – John Kasay played in the NFL for roughly as long as the Panthers' rookies have been alive, but the kicker's storied career flew by like a short story.
"Enjoy what you do because it's going to go really fast – and I played 21 years. It went really fast," Kasay told Carolina's rookie class Tuesday evening. "You have a lot of really good mentors that the team has brought in to help you, and you can't do it by yourself. You have to rely on the guy next to you."
Kasay and seven other former Panthers with a combined 93 seasons of NFL experience vowed to be by the rookies' side during a now-annual dinner that pairs retired players with rising players.
The former players and 15 rookies shared a meal, stories and contact information at Fahrenheit, a restaurant in uptown Charlotte that offers unrivaled views of the city. Over the course of the evening, Kasay and others who excelled on and off the field provided perspective on a similar scale.
"It's really nice to know that they're all looking out for us," said offensive tackle Taylor Moton, who the Panthers selected in the second round of last month's NFL Draft. "John Kasay is one of the greatest kickers of all time. Muhsin Muhammad, who is from Lansing like me, is awesome to talk to and get knowledge from him.
"And Travelle Wharton is just an awesome mentor. I'm lucky to have him in my corner and to be able to learn from him every day."
Wharton and Moton were paired together at the dinner because they share the same position, but it wasn't their first meeting. Wharton is serving as a coaching intern for the Panthers this season.
"There's a wealth of knowledge in this room," Wharton said when each of the veterans stood to address the room before entrees were served. "Please don't be afraid to use it."
This is the third consecutive year the Panthers have hosted such an event. Mike Rucker, a former Pro Bowl defensive end who starred for the Panthers from 1999-2007, and Mark Carrier helped get the idea off the ground. While Rucker is southeast coordinator for the NFL Legends Community, Carrier (who played 12 NFL seasons) oversees the team's rookies in-house as player engagement director.
It all came together with a helping hand from Charlie Dayton, the Panthers' longtime director of communications who now serves as the team's director of historical and alumni affairs. Dayton encouraged the rookies to take note of and take advantage of what the veterans – a group that also included safety Eugene Robinson, linebacker Omar Gaither and tight end Luther Broughton - bring to the table.
"There's a lot of knowledge in here, and we're going to be some of your biggest fans," said Rucker, who also works as a television commentator on Panthers preseason games. "We want to see you guys do really well. We just want to be a resource for you guys."
Brad Hoover, who went from undrafted rookie to 10-year standout at fullback for the Panthers, is among the former players embracing the opportunity to give back.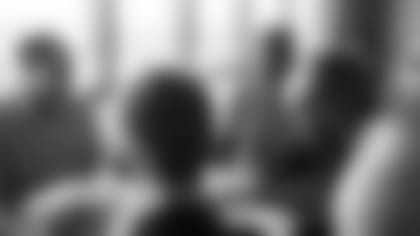 "This is a great thing," Hoover said. "When I came in as a rookie, there wasn't anything like this – it was a free-for-all.
"This is a good thing to utilize. Everybody in this room has a different story, but we're all under the same umbrella – the shield of the league – and we're all very proud of that."
When Hoover and Rucker were teammates, they leaned on veteran players on the roster for advice. Rucker said he soaked up everything he could in his one season with future Hall of Fame defensive ends Kevin Greene and Reggie White, and he's encouraging rookies like defensive end Daeshon Hall to do the same with Julius Peppers and Charles Johnson.
"That's what this fraternity is about – passing the baton," Rucker said. "It's kind of like coaching trees. We have our own tree here in Carolina."
Hall, a third-round choice last month, can't wait to start establishing his roots.
"I'm going to implement all the things these guys are saying because clearly it worked for them," Hall said. "Since Day One it's a brotherhood around here, with all the vets taking in the young guys. It's like nothing else."