CHARLOTTE – This weekend, defensive end Rakim Cox is one of a handful of participants in the Panthers' rookie minicamp who doesn't feel like a rookie.
But Cox certainly knows what that feeling is like.
"It can be discouraging, coming in and seeing all these draft picks and thinking, 'I'm just a free agent guy. I don't know,' " Cox said. "But the thing is, if you work hard and show out, the coaches will take a chance on you."
Of the 35 invited tryouts at last year's rookie minicamp, Cox and four others were signed to the Panthers' 90-man roster within two days of its conclusion. Defensive tackle Chas Alecxih had to wait a little longer after he left last year's minicamp, but it was worth the wait as he and Cox spent all of last season on the practice squad of the 2015 NFC Champions.
"I came in here last year as a tryout guy and worked my butt off," Alecxih said. "They didn't sign me right after, but I went home and they brought me back two weeks later.
"I treated this like the Super Bowl – my own personal Super Bowl. I came out there and I was like, 'If I don't get signed, it's over.' That was my chance."
Alecxih, Cox and six other non-rookies already on the Panthers' 90-man roster are hoping this minicamp can help them take the next step in their careers, but they're also trying to help this year's crop of invited tryouts take their first step. Alecxih, Cox, wide receiver Damiere Byrd and guard Reese Dismukes spent time on Carolina's practice squad last year, while four players with previous stints on 90-man rosters – defensive tackle Eric Crume, cornerback Travell Dixon, wide receiver Cobi Hamilton and guard Tyler Larson – signed future contracts with Carolina in January.
"It's a little different when you're under contract. The sense of security is a little different, but you approach it the same way," Alecxih said. "This gives me a jump on OTAs, gives me a feel again of putting my hand in the dirt.
"I think I'm the oldest guy out here (age 27). I'm trying to be a leader."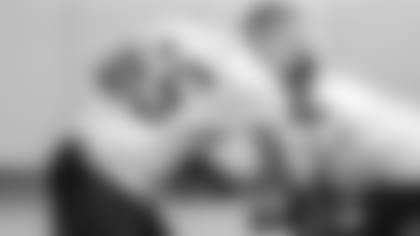 Alecxih vividly recalls his shot at this same camp last year, and if he didn't, he got a refresher Friday. Much like last year, head coach Ron Rivera shared with the 55 camp participants that about one-third of the players on the 90-man roster this time last year were undrafted players in either their first or second year of pro ball. Add the 15 or so more veterans who also went undrafted as rookies, and roughly half of last year's 90-man roster was made up of players who weren't drafted.
"Everybody here has an opportunity," Rivera said during a morning meeting with the players. "Believe that."
While invited tryouts like tight end Hunter Westfall – one of a half-dozen invitees from the greater Charlotte area – are aiming to grab one of the five open spots on the 90-man roster like Cox did a year ago, Cox is trying to follow in the footsteps of players like Charlotte native Brenton Bersin. An invited tryout in 2013, Bersin ascended from practice squad wide receiver that year to a member of the 53-man roster for nearly all of the past two seasons, when he played in 24 games.
Cox could make a similar leap this season. Despite some outside noise, the Panthers didn't draft a defensive end or sign one in college free agency, confirming their belief in the depth at the position.
"I think they made a good decision. Honestly, I feel like we have the defensive ends we need and the depth," Cox said. "I'm putting a chip on my shoulder this year to step up my game tremendously. That starts right now. I want to be the best player I can be.
"I'm a lot closer. I went home this offseason and trained really hard. I think I'm in a little bit better shape and a little bit more explosive. I'm going to show out and make the decision tough for them."
In many ways, it's not unlike where Cox found himself at this same camp a year ago. In the NFL, it's always time to prove yourself, whether you're on a roster or hoping to parlay a tryout into a roster spot.
"It was nerve-racking last year. I was out of football, so I was anxious," Cox said. "I was nervous, but I stayed focused and it worked out."
View photos of the 2016 rookie class as they participate in drills on the first day of minicamp.