1. Eager to make changes: At his end-of-season press conference Monday, head coach Ron Rivera was asked to expand on his desire to see the offense evolve in 2017 – something he discussed at length with Panthers.com last week.
Rivera spoke about finding different ways to use quarterback Cam Newton's athleticism in the passing game while limiting his exposure to punishment as a ball carrier.
Newton has previously said running the ball is his "edge," but Rivera doesn't believe it will be a hard sell when it comes time to implement changes.
"No, not at all," Rivera said. "I've talked with him and I've talked with some of the players on the team about the things we need to do going forward, and the one thing about Cam is Cam is always all-in."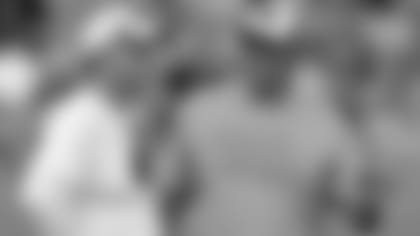 2. Vote of confidence for Shula:The offensive coordinator, of course, plays a big part in any plans for the offense.
When asked if Mike Shula is the right guy to help orchestrate this evolution, Rivera simply replied: "Yes."
Shula, whose tenure in Carolina began as quarterbacks coach in 2011, has been the offensive coordinator for the Panthers since 2013. Last year, Carolina scored the most points in the NFL (31.3 per game). This year, the Panthers ranked 15th in scoring (23.1).
3. Corners must build on strong start: One of the major storylines heading into the season was the question mark at cornerback. Carolina invested a second- and third-round pick in James Bradberry and Daryl Worley, and they combined to start 24 games. Rivera believes they are both headed in the right direction and hopes the best is yet to come.
"I want to make sure they understand how important it is to come back in and compete," Rivera said. "They both did a great job; they both finished strong and did a lot of good things. But it's an everyday process. They have to come out and work hard, compete and get themselves ready to go for the next season. They can't fall back and rest on their laurels, which we have learned this year."
4. Draft position should help address "glaring" needs:Rivera was asked about the Panthers holding the No. 8 overall pick in the 2017 draft, and he offered his quick assessment of his team's draft outlook.
"We have, I believe, just a few holes to fill," Rivera said. "We'll get a lot of guys back that were part of the reason why we had some holes that were out there. We just have a few of them that need to be filled, and you get your center (Ryan Kalil) back, get your middle linebacker (Luke Kuechly) and hopefully we get our left tackle (Michael Oher) back.
"But we have an opportunity to fill probably one or two needs that are glaring. Other than that, I feel pretty good about us."
View the top photos from Panthers vs. Buccaneers by team photographer Melissa Melvin-Rodriguez.