CHARLOTTE – Looking back on it, the Panthers' early conversion of a fourth-and-1 near the end zone doesn't seem like the difference between winning and losing after Carolina cruised to a 38-0 victory over the New York Giants.
But football can be a game of inches even in games that eventually evolve into blowouts, and we might be looking back at the game in a much different light if that play had stunted rather than sparked the offense.
"Once we get in that position, we've got to get it in the box," said fullback Mike Tolbert, who scored from 2 yards out on the play to give the Panthers a 7-0 lead that steadily grew. "We got a little momentum going, and things started rolling from there."
Beginning with that drive, the Panthers scored on six of seven possessions, a stretch of success that stopped only when Carolina took measures late to not run up the score.
And it all started with a simple run that wasn't so simple given the way things had gone of late for the team.
Following a painful 24-23 loss to Buffalo last week, head coach Ron Rivera faced some criticism for his decision to kick a field goal that gave Carolina a 23-17 lead with less than two minutes left rather than going for it on a fourth-and-1. Hindsight undoubtedly played a role in the reaction, yet early Sunday the Panthers were right back in a fourth-and-1 situation.
The Panthers defense dominated early and often, recording sacks three times and tackles at or behind the line of scrimmage twice on the Giants' first eight offensive snaps. Yet, when tight end Greg Olsen got dragged down at the 2-yard line to set up a fourth-and-1 late in the first quarter, the Panthers were a failed play away from finding themselves stuck in a scoreless tie.
"With the way we were playing defensively, I really felt like if we didn't get it, we could keep them down there," Rivera said. "I felt that comfortable with the defense, and I also felt good about the offense."
The Panthers initially thought Olsen had gained the first down, but after the spot and subsequent measurement left them inches short, offensive coordinator Mike Shula stuck with the same play call on fourth down that he had in mind for first down.
"Richie (Brockel) blocked the edge guy great, and the line did a great job upfront," said Tolbert, who bounced to the right to score. "My job was easy."
Only after trotting off the field did center Ryan Kalil truly grasp the gravity of the conversion.
"Kalil was like, 'We've got to get this!' " left tackle Jordan Gross described. "We score, and then we get to sideline and I say, 'Dude, that was awesome on fourth-and-one.' And he's like, 'It was fourth-and one? I thought it was third-and-one.'
"To go for it and score – not just get the first down but score – that was awesome."
And the Panthers' offense was awesome from there. After quarterback Cam Newton made his only major mistake of the game with an interception that gave the Giants what would prove to be their best scoring opportunity, he directed them on a drive that produced a long field goal and then an impressive 65-yard touchdown drive just before halftime for a 17-0 lead.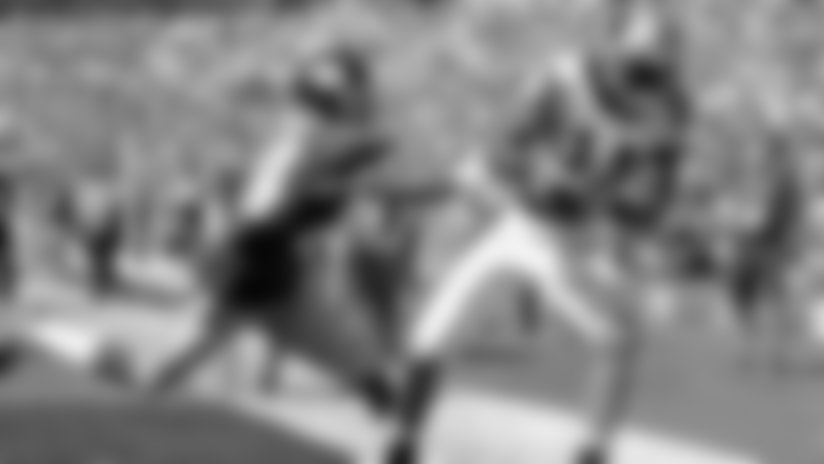 It didn't end there by any stretch. Wide receiver Brandon LaFell, who scored on a 16-yard catch from Newton with 12 seconds left in the first half, scored on a 20-yard reception less than four minutes into the second half to cap an 80-yard march.
"Our whole mindset at halftime was, 'Remember what they did to us last year.' They kept their foot on the pedal," said LaFell, whose Panthers fell to the Giants 36-7 in Week 3 last year after trailing 20-0 at halftime. "Let's not just be happy with scoring a touchdown before half. The first drive is a statement drive. Let's keep pounding."
And, starting with a fourth-and-inches conversion, that's exactly what Carolina's offense did, as fans who went home with game balls hand-delivered following Panthers touchdowns could attest.
"It was extremely fun," Newton said. "We had a lot of balls that we gave away today. It was great, the 'Sunday Giveaway.' "