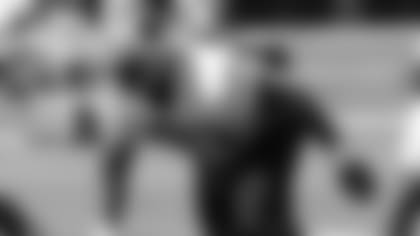 Comments from Carolina Panthers head coach John Fox following the team's practice.*
On injuries: Did not participate: Na'il Diggs - rib, Brad Hoover - back, Rhys Lloyd - ankle, and Jonathan Stewart - Achilles.
On if kicker Rhys Lloyd was injured while trying to make a tackle during a kickoff against Tampa Bay: On that play, yes.
On the trade for defensive tackle Tank Tyler: He's a guy that we feel like is going to help us, obviously to trade for him and give up a fifth-round pick. He's a guy we knew a little bit (about) coming out (of college). As far as our evaluation, we watched him on tape there with Kansas City and felt like he could definitely help us, so we're glad to have him aboard and looking forward to working with him.
On playing against Bills center Geoff Hangartner, who played for the Panthers from 2005-08: It will be interesting. He was a very well-liked guy in our locker room by the coaching staff, by his teammates. Any time a guy can better his career to get an opportunity, I think everybody was happy for him. He'll be trying to whoop us and we'll be trying to whoop him, but all in good fun. It will be good seeing him. He's a good man.
On the Bills: They're a very, very good football team. They've got weapons; they've got good players. I believe they're well coached. They had an excellent game against a good football team (New York Jets) last week on the road. So we're looking for a very good football team to come in here to our place.
On if quarterback Jake Delhomme is doing anything differently than he has in the past: Probably no different than any other year. No different than maybe after our first game this year when everybody wanted to pin the Philly loss on him. Probably no different than when we were sitting at 0-3. As a football team - not just one guy - I don't think any of us were very good. I don't think me as the head coach was very good. I think top to bottom that was the deal. I think over the last three weeks, and I'm counting the bye week as one of those, guys have worked very hard. A week ago, there was some disgruntledness over our run game. Guys worked hard, responded well and we got that working. This is a tough game played by tough people. You keep working until you get better. I don't think the passing game rests on one guy's shoulders.
On if he is worried about Delhomme's confidence: He's had enough good things happen for us to be 2-3. There is not a guy out here that does this for a living that doesn't have to have extreme confidence. I don't really worry about his confidence. I think results help earn confidence, and we're working on getting better results. Again, it's not just one guy.
On if he is concerned that the Panthers had just 55 net passing yards against Tampa Bay: Not when you run it for 260 (yards). If you only had 55 yards total offense, that would be a concern, yes. But to score 28 points is enough to win in this league on a consistent basis. Had we done that consistently, our record would be different. I tend to try to find the positives rather than the negatives. I don't have my head in the sand. We've got work to do. They (players) don't have their head in the sand. We understand that.