Comments from Carolina Panthers head coach John Fox'send-of-season press conference following Saturday's 33-13 loss to theArizona Cardinals in the NFC Divisional Playoffs.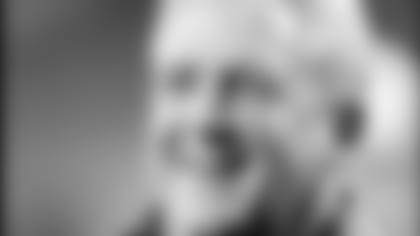 ** On his message to the players at the final team meeting:We had a great season and a bad game. Unfortunately, it occurred when it did. But walk out of here with your head up high. All in all it was a heck of a season with a lot of good things. It's a good core of players to move forward with.
On how he would characterize this year's team:A very high-character team. I think probably as fun a year as I've everhad in coaching. It was a good combination of guys, coaches. It was aheck of a bunch to coach.
On if he had a chance to talk to quarterback Jake Delhomme about his game: Yeah. He had a bad game. He didn't have a bad season. He's not a bad quarterback. He had a bad game. It happens.
On if he expects Delhomme to be a scapegoat for the loss: I suspect like any loss we all become scapegoats. But that's part of it, and we just move forward.
On if there was anything that happened that led to Delhomme's five interceptions:Having not seen the tape yet, I can't really speak to that. Probablythe sack-fumble was a bigger play than the interceptions, because Ithink that gave them life. We started great. Even with a kickoff out ofbounds early, we knocked them back out of field-goal range. I think thesack-fumble was a huge play early that resulted in a score and gavethem the lead, 14-7, and then it snowballed from there.
On playing more zone coverage pass defense in the first half than in the second half:I think they had a heck of player (Larry Fitzgerald) that caught sixballs - two of them he wasn't even covered on. They threw it to him20-some times. I don't think that's why we lost the game. We werefortunate they didn't score more than 33. That was 10 more than theyscored the last time, and we turned it over once at the five (yardline) and that gave them a score. There would be a lot of reasons. Butwe look at the tape and we understand what happened. You just don'tgive the ball back to the third-ranked offense in the National FootballLeague six times.
On if he considered dedicating one player to shadow Cardinals wide receiver Larry Fitzgerald:By design, we always had a defensive player on him, sometimes two. Butwe haven't done that (shadow a player) all season and we didn't do thatin the first game.
On if Arizona wide receiver Anquan Boldin not playing had any affect on the defense: No.
On if he believes defensive end Julius Peppers, who will be an unrestricted free agent, wants to stay with the Panthers:Julius, who I have the utmost respect for, he's a private person. He'sa different person than other people. It's a process, and he's fairlyprivate with the process. I'll leave it at that. I've got no complaintswith Julius. I've got no questions of his commitment. It's the businesspart of it and it's a process. I think he did a great job of focusingon football this year and not letting anybody from the outside make ita distraction, and I have a lot of respect for that.
On how he would gauge the priority of keeping Peppers:I'd say it's important. I think most people would see that as beingimportant, just like keeping Jordan (Gross) here, and I think keepingall of our core players here. I can't predict future.
On if the Panthers would consider placing the franchise tag on Peppers if a long-term deal cannot be reached:You're asking me questions - we're a day after the season is over -that are good questions, but again, that's a process. Right now I amlooking forward to having next week off.
On if he knows in his mind whether Peppers would prefer to remain with Carolina:I've had conversations with him; I tend to keep those private. Like Isaid before, I've got the utmost respect for Julius. I think thosethings are between me and Julius.
On how important thenext month and a half before the start of free agency is consideringPeppers' and tackle Jordan Gross' situations: Like I said,it's still early. It will be a process. I think they both know how wefeel about them. I think we know how they both feel about us; andthat's the business part of it. Hopefully, it works out.
Onif the Panthers would let Peppers go elsewhere and not put thefranchise tag on him if he made it clear that he didn't what to be here:I don't do good with hypotheticals. Most times you just march forwardin time and take one day at a time, and that's what we're prepared todo. Things change.
On his postseason process: Ijust spent most of the morning doing exit physicals and talking to ourfootball team, explaining to them the offseason schedule. I did thesame thing with the staff. Next week our staff will be off. Then we goto the Senior Bowl. Our scouting department has been working onpersonnel moves the whole season. That's their job - both prodepartment and college scouting. We'll get our first look down inMobile (Ala.) at the Senior Bowl two weeks from tomorrow. Then we're inthe offseason process. We'll evaluate our football team and look atthings that we can do to improve. We don't share those thingsoutwardly. Some of those questions have come up that there are noanswers for, and I think time will show us the answers.
On if he anticipates any changes to his coaching staff: I don't predict any, but it's still early in that process - I think too early to predict or decide on.
On the emotions of the last 24 hours:Thankfully, I've done it a lot. I think you've got to get to that highbefore you can get the disappointment. As I mentioned last night,there's only one happy team. There are going to be two sad teams today.The reality is there are no ties. Somebody has to lose. So at the endof it all, the only truly happy person is the guy with that LombardiTrophy. That's the race we all get in, we all fight for, and,unfortunately, there's only one that gets it.
On if any players will need offseason surgery:Not too many things that I want to discuss publicly right now. Butagain, I haven't met with our medical people extensively. But those arethings that we'll weed out as we move forward.
On the injury linebacker Landon Johnson suffered against the Cardinals:He actually spent the night in the hospital. There are no breaks, notorn tendons. I think he just had a couple of muscle pulls that werepretty painful. I don't remember the exact names but hip and groin. ButI think it is something that he should recover from, but he was prettymuch in pain last night when he left here.
On how much he liked this team: Liked very much - as fun of a team as I've ever coached.
On how hard it is to say good-bye to the players knowing that there will be changes:It's like that every year from '03, '05, '93, '89. There are a lot funplayers to be with and a lot of good teams that don't stay the same.There are not too many teams in this league - even the Super Bowl champdoesn't stay the same. It's just the landscape of what we do and theNational Football League at present time. I think that's one of theneat things about it. That team picture - you look back 15 years fromnow and it brings back a lot of memories.