CHARLOTTE – Devin Funchess' size and athleticism makes a good first impression. But the Carolina coaching staff is just as excited about his intelligence.
During organized team activities, the rookie has already displayed knowledge off all three wide receiver positions.
"It's huge," wide receivers coach Ricky Proehl said. "He can fill in for anybody. That helps us tremendously."
Which one – X, Y or Z – does the 6-foot-4 Funchess prefer?
"I like all of them," Funchess said. "Wherever I can go get the ball."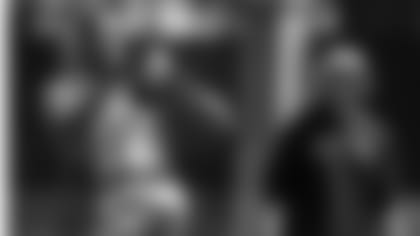 Proehl had a feeling Funchess would pick up the Panthers' offense quickly. When Proehl visited him at the University of Michigan for a pre-draft workout, he found that Funchess had all the answers.
"He was spitting everything back right away," Proehl said. "He even knows blocking assignments from the line because of playing tight end in college. That kind of sealed the deal. We really don't need to ask this kid that much. He's obviously been taking notes."
Funchess won't play tight end for the Panthers, but his experience on the line expanded his knowledge of offensive concepts. In college, he was a player teammates could turn to for help during film sessions.
"I'm a winner. I hate losing," Funchess said. "It frustrates me when some people don't get it, so I just make sure I know everything so I can help somebody else out."
Funchess helped himself by rigorously studying the playbook even when losses and coaching turmoil made things challenging at Michigan. That commitment prepared him for the learning process that would inevitably take place in the NFL.
"You can tell he's emotional about it," Proehl said. "The end of his college experience wasn't great. I flat out told him, 'Michigan is done. You are in a great situation now.' He's embraced that.
"He's been amazing learning our offense," Proehl added. "Now we have to fine tune it on the field."
Between the lines, Funchess' strengths have quickly become apparent. He's a big, fluid athlete. Proehl now has to polish his technique so those strengths can be maximized in Carolina's offense.
"We're working on putting his foot in the ground and changing direction," Proehl said. "He kind of rounds everything, and we have to break him out of that. It's a different animal. We run a lot of comebacks, curls, slants, post corners. You have to put your foot in the ground and accelerate out of the cut.
"And he just has to learn the physicality of the NFL. Defensive backs are going to hold and grab you. He has to learn to play physical. But he'll pick it up. He's very observant, and it won't take him long."
Funchess has already proven his willingness to learn, and that's an all–important first step. When the coaching points become second-nature, Proehl believes everyone will see why the Panthers moved up 16 spots to select Funchess in the second round.
"In my mind," Proehl said, "we got a steal."
---
Earlier in June, Funchess attended the NFLPA Rookie Premiere, which exposes 40 rookies to marketing opportunities. The players also take part in a photo shoot, featured below. You'll notice quarterback Jameis Winston, who was selected No.1 overall by the division-rival Tampa Bay Buccaneers, is pictured with Funchess. They've been friends since high school and there's already been some NFC South trash talk.
"Oh yeah," Funchess said. "I tell him all the time he's guaranteed two losses every year."