CHARLOTTE – Devin Funchess entered the NFL with a professional build and a professional understanding of the study habits required to succeed. He's 6-foot-4, 225 pounds and a sponge in the meeting room.
But the transition from college to professional football almost always takes time. Funchess, the youngest player on the roster, missed time in training camp with a hamstring injury, forcing the second-round draft pick from Michigan to play catch-up from the get-go.
"You wish you could have had him all the way through training camp where he could have gotten some quality reps, especially when we had Miami in town (for joint practices)," head coach Ron Rivera said. "But he didn't, and initially it was slow and he was frustrated because he wanted to play more."
In the first seven games of his career, Funchess recorded seven catches for 90 yards and zero touchdowns. Drops were magnified in his limited opportunities.
"At that point, he hadn't done enough," Rivera said. "Then probably around Week 6, 7, 8, he showed us that he knew enough, and then you started seeing growth. And the more he got on the field, the better he played."
Funchess broke through in the Week 9 victory against the Green Bay Packers.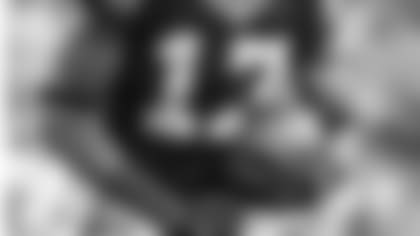 Quarterback Cam Newton launched a deep ball down the middle and Funchess tracked it, fought off cornerback Damarious Randall, who was draped all over him, and made a spectacular 52-yard catch. He later muscled through Randall to reach the end zone for the first time in his career on a 14-yard reception.
Funchess was embracing the physical challenge at the line of scrimmage and began using his big frame to his advantage.
"The hardest thing for a wide receiver to understand is how physical the game is up here because you've got to think about it: How much man coverage do you see on the college level? If you see it, it's like you've got to write it down and go to a notary public to prove that it was there," general manager Dave Gettleman said. "So that's a big adjustment for receivers – I don't care who they are. They haven't seen that kind of physical play."
Funchess went on to score a touchdown in every other game. In Weeks 9 through 17, he recorded 24 catches for 383 yards and five touchdowns.
"He has really come on," Gettleman said.
Funchess' best performance came in the regular season finale against the Buccaneers, when he posted a career-high seven catches for 120 yards and a touchdown.
"(The coaches) slowed the process down, and I just trusted it," Funchess said. "Then I started rolling, getting on track with Cam, getting on track with the other wideouts as far as them teaching me stuff. I had a great game (in Week 17), and I am just trying to build on it."
Rivera recently called Funchess a potential "X-factor" for Carolina in the playoffs. With his size and athletic ability, and with the confidence he's gained late in the season, the rising rookie could very well be a difference maker.
"Moving forward (Devin's) confidence has been shooting through the roof, and this is just an appetizer of things to come," Newton said. "He's a person that wants to get better. He knows he's capable of being a top tier player in this league, and the expectation has been set since Day One.
"It's fun to watch and see him grow."