CHARLOTTE – No division title is won in Week 4, but the race for the NFC South is underway and the Atlanta Falcons have an early lead.
The Panthers intend to change that on Sunday in their first divisional matchup at the Georgia Dome, which is the first of three consecutive division games for the three-time reigning NFC South champions.
"We're in a position where we can beat a division foe and take a step up on them in the (NFC South)," head coach Ron Rivera said. "This is an important game."
Atlanta (2-1) is the only team in the division with a winning record through three games. Carolina (1-2), which had its run at perfection stopped at the Georgia Dome last year with a 20-13 loss in Week 16, is now simply looking to get to .500 to close the first quarter of the season.
"I'm just trying to get to 2-2," quarterback Cam Newton said, "as crappy as that sounds."
First place in the division sounds a lot better, even if this marathon of a race is just getting started.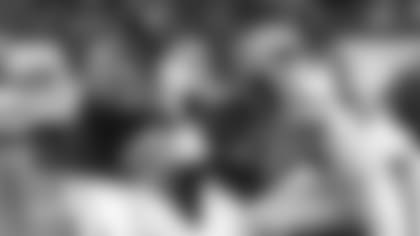 "It all starts within your division – win the division and you get to the playoffs," safety Kurt Coleman said. "It's crucial and obviously, with the situation we're in we want to get back on track. Last year, if you were a part of it, it was such a blessing to go 14-0, but that's not the NFL, that's not really how it works. You have ups and downs and ebbs and flows, and it's the teams that remain constant with their work ethic that are successful.
I think this game is a big game for us," Coleman added, "going on the road and facing an explosive offense."
The Falcons offense, led once again by quarterback Matt Ryan and wide receiver Julio Jones, ranks first in the NFL in scoring (34.7 points per game) and total offense (448 yards per game).
A revamped offensive line has helped running backs Devonta Freeman and Tevin Coleman establish a potent ground game.
"They have guys at every position that are dangerous, and Matt is playing really well," linebacker Luke Kuechly said. "When they're at home they move faster; their tempo is better. We have to be on top of our game.
"They're playing with a lot of confidence right now."
When asked if the Panthers were lacking confidence after losing two of their first three, Kuechly rejected that thought without hesitation.
"This is not how we wanted to start," Kuechly said, "but the guys are focused on the task at hand."
---
View the top photos by photographer Kent Smith from Carolina's game against Atlanta.