CHARLOTTE – The Carolina Panthers and San Diego Chargers, set to meet Sunday at Bank of America Stadium, share a lot of ties even though they're virtually a country apart on the map.
Panthers head coach Ron Rivera was the Chargers' defensive coordinator before coming to Carolina. Chargers head coach Mike McCoy was a Panthers assistant for nearly a decade.
Rivera and McCoy have similarly talented rosters, but they also find themselves in a similar situation neither one wants. Thanks in no small part to a series of excruciatingly close losses this season, both are in charge of teams capable of doing damage in the playoffs but unlikely to get the chance.
"We lost five games this year by a field goal or less, and that's a tough pill to swallow because it's a matter of a play here or a play there," Rivera said. "But unfortunately you are what your record says you are."
The record in the Panthers' case is 4-8, leaving them technically alive for a fourth consecutive trip to the NFC playoffs but leaving them to focus on other things for the time being.
"We have a lot of really good football players on this team," linebacker Thomas Davis said, bemoaning how a Panthers team that played in Super Bowl 50 just 10 months ago finds itself in this positon. "To come so close to doing it, it makes you hunger to do it again. That's the mindset we came into this season with, and we still feel like that, but it's totally out of our control now. We know we need a lot of stuff to happen for us to still have a chance to make the playoffs. That's just where we are."
The Chargers can relate. They're 5-7 this season but probably lose sleep thinking about how they've lost some of those games. They started the season 1-4 – like the Panthers – and three of those losses were by four or fewer points. Crazily, the most painful one was probably the most "lopsided" one, a Week 1 loss at Kansas City in which a 24-0 lead devolved into a 33-27 overtime loss. The Panthers know all about the Chiefs' comeback penchant, having built a 17-0 lead in Week 10 only to fall 20-17.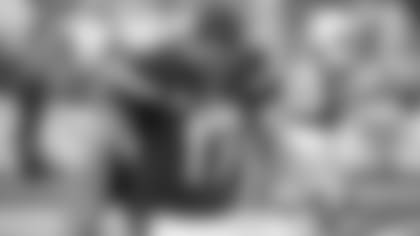 The Chargers appeared to have moved away from their close-loss angst by winning four of six games before returning to it last week, a 28-21 loss to the Buccaneers in which quarterback Philip Rivers was intercepted in the end zone with three minutes left. In the fourth quarter of Carolina's Week 5 game against Tampa Bay, quarterback Derek Anderson was picked off on first-and-goal at the 1 in a tie game, and the Panthers eventually lost 17-14 on a last-second field goal.
"I think the parity in the league is so close," McCoy said. "You look at teams and the difference between winning and losing isn't much on a weekly basis. It more often than not comes down to some play or some drive late in the game that a team makes or doesn't.
"There's a number of different reasons this year that we have not made those plays at different times. You always look at it and evaluate it. You have to just learn from it and move on."
That's what both teams will be trying to do Sunday – at the other team's expense.
"I'm going to look to the now," Rivera said. "I told the guys in there, 'We have an opportunity to play four games. We have an opportunity to win four games.' That's just the way it is. We're going to play each game to win.
"We can only play them one at a time, so we're focusing on San Diego and going out and playing hard."
---
Photos from Carolina's win over San Diego.