CHARLOTTE – The building feeling of momentum within an NFL game can be palpable, with one big play seemingly driving a team toward making another one and another one.
But figuring out a way to carry that feeling from one game to the next is a more elusive pursuit. It's something the Panthers perfected last season and would like to repeat this season as they try to get back in the playoff race.
"We definitely feel a little bit of momentum, but that comes from hard work during the week," fullback Mike Tolbert said. "And nobody in the league works harder than we do as a football team."
Carolina welcomes a team to Bank of America Stadium on Sunday that figured out the formula like the Panthers did last season and has kept it going all of this season. The Kansas City Chiefs started 1-5 last season – just like the Panthers did this season – but have since won 16 of 18 regular season games and will enter Sunday's showdown at 6-2.
The Panthers, at 3-5, are showing signs of getting back on a roll.
"Uncle Mo?" safety Kurt Coleman said. "It's a week to week thing. You can't take anything for granted. Look, we've had two good weeks back-to-back, but it's a whole new week, a whole new challenge."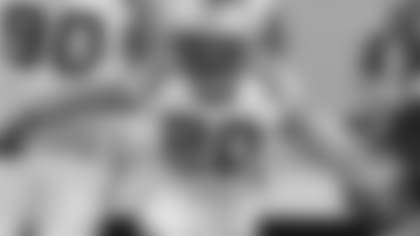 Coleman's formula for having momentum travel from one week to the other is simple: build on what went well the previous week and put an even better product on the field.
"This is a great opportunity in front of our fans to assert ourselves," Coleman said. "We know that we're tough. We know we can hunker down in tough situations. Now it's about just putting it all together."
Tight end Greg Olsen believes week-to-week momentum is attainable through consistent play, and he's seeing signs of that the last two weeks. But beyond the concept of momentum, Olsen believes consistency is perhaps even more important when things aren't going well.
"That's the biggest message we try to get to the guys who haven't been here in the past. This season goes on whether you like it or not – whether you're doing well or not," Olsen said. "You better keep working, or else you can get embarrassed pretty quick in this league."
The Panthers were embarrassed by their results before the bye coming off a 15-1 season, but Olsen said the team treated it as a new season after the bye and are now bracing themselves for "a pretty incredible challenge this week against a really good team."
The young players have embraced the approach it takes to string together wins in this league.
"We're not getting complacent with anything we've done. Week to week, we're trying to get better and better," rookie cornerback Daryl Worley said. "It gives the entire team confidence whenever you're coming off a win. When you've got a 'W' under your belt, you want to go and get another one."
---